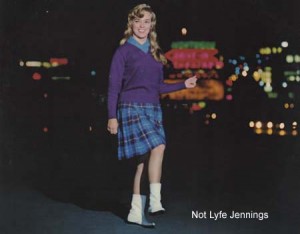 We were going to preview Lyfe Jennings' show Monday at House Of Blues, but looks like he'll be in jail for the time being.
Shows we plan to preview get canceled all the time, but a prison sentence — especially for someone so resolutely positive as Jennings on the new I Still Believe (Warner Bros.) — as a reason is a first for us. And how do you top such a tale?
Thank God for Connie Smith. Even though she's avoided prison in her life, her biography reads like the amalgamation of a thousand country-music songs: born in poverty; abusive father; growing up with a dozen siblings; leg nearly hacked off in a lawn accident; learning the guitar during recovery; discovered by Chet Atkins; born again; divorced three times . . . and the music is strong enough to make you forget all that?
She arrived publicly not long after Patsy Cline's death in a '63 plane crash. Yet even though Loretta Lynn was thriving and Tammy Wynette would soon crash the party, Smith stood tall delivering smashes like "Once A Day" and "Ain't Had No Lovin'." She wasn't haunted like Cline, provocative like Lynn, or constantly ill like Wynette, but nonetheless began to sag under the pressure of constant touring and appearances. In the late '60s she found religion and immediately clipped her schedule. The prairie-fire success of '71's "Just One Time" couldn't stem her slide from public view, however, as her increasingly devotional songs pushed her from the spotlight. Nearly three decades after her spiritual reawakening, she kickstarted her career as well with husband Marty Stuart. (Sunday@Old Town School Of Folk Music with Robbie Fulks.)

Adam Pierce's Mice Parade persona is more pseudonym that project, meaning he's the only constant in an endlessly reinventive current of pop music forms. This month's What It Means To Be Left Handed (Fatcat) returns his voice — which occasionally recalls David Grubbs — to the center, while a mixture of post rock (both Mogwai-esque and Tortoise-ish), amoebic electronic pop, and foreign polyrhythms swirl in an eddy around it. This is to say nothing of the half-dozen albums that precede it, which have featured members of Icelandic hush-popsters Múm and rock guitars. (Monday@Empty Bottle with Les Shelleys.)
— Steve Forstneger
Category: Featured, Stage Buzz, Weekly