Riviera Theatre, Chicago
Wednesday, September 8, 2010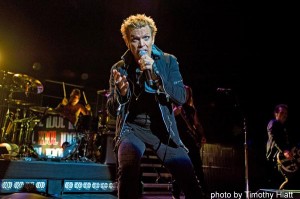 A packed, 40-something crowd got a taste of three decades of music at the Riviera on Wednesday night.
The night began in the '90s/'00s, with Slash opening act and using his 13-song set to collect work from three different bands. He rocked and riffed through Guns 'N Roses and Velvet Revolver hits, as well as newer material from his recent collaboration-packed, self-titled solo outing. Not many lead vocalists around are up for the task of pulling off everyone from Axl Rose to Scott Weiland to Andrew Stockdale to Ozzy, but touring frontman Myles Kennedy (Alter Bridge) stepped up to the challenge. He naturally sounded strongest on his own tracks from Slash's solo record, but was also more than capable of handling lead on the other songs, all without falling into the trap of trying to imitate.
Kennedy knew his role — don't outshine Slash — but simply used his wide range to nail each song and involve the crowd where necessary. Slash and company hit their peak as they closed, rocking through crowd-pleasers "Sweet Child O' Mine," "Slither," and "Paradise City," letting the fans scream out every chorus. Slash's comments and crowd interaction were very minimal, but nobody seemed to mind.
Then it was back to the '80s for Billy Idol. While age hasn't necessarily calmed down the "rebel," it has slowed down the "rocker." While the set shot past 90 minutes, it included multiple extra-long guitar and drum solos (a.k.a. "backstage breaks for Billy"). Idol still has the vocal chops to yell, croon, and sing (and still has the six-pack abs!), but every move he made seemed choreographed, including every fist pump, ab flash, and sneer.
The setlist also left the audience scratching their heads. After the surprising opener "Ready Steady Go," a throwback to Idol's days in British punk band Generation X, followed by crowd-pleaser "Dancing With Myself," Idol proceeded to play way more new material than the crowd was interested in, with a few of his slower-paced hits ("Eyes Without A Face," "Sweet Sixteen") interlaced. The entire balcony remained in their seats until the closing cover of "LA Woman" (which Idol modified to "Chicago Woman"), but that was most likely because he invited Slash on stage to play with him. The encore included a couple more Gen X songs, and the expected crowd-pleasers "Rebel Yell," "White Wedding" (which began acoustically), and "Mony Mony," but some of the crowd had left by this point, and Idol may have been better served spreading the hits around. Besides Slash, the spotlight actually belonged to Idol's longtime sidekick Steve Stevens, whose impressive skills, crowd interaction, and over-the-top showmanship kept fans engaged during Idol's many breaks. It was a decent rock show overall, but it may have been proof that Idol's aging body can't keep up with his attitude.
— Carter Moss
Category: Featured, Live Reviews, Weekly