Thursday, September 16, 2010
Charter One Pavillion, Chicago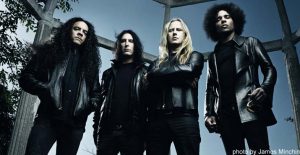 Charter One Pavillion got to play host to some rock legends and a couple of up-and-comers on Thursday night. In an odd twist, the openers were louder than the headliners, as Mastodon and Deftones set the stage for grunge pioneers Alice In Chains. After a remarkable career that included some 17-million albums sold and the death of their lead singer, AIC shocked skeptics with a critically and publicly acclaimed return LP, Black Gives Way To Blue (Virgin), which is already certified gold and has spawned a Grammy-nominated single ("Check My Brain"). On their latest Chicago stop/victory lap, AIC seemed appropriately well-rehearsed.
The band chose to please diehards by foregoing the more recent vintage in favor an opening assault from 1992's Dirt: "Them Bones," "Dam That River," and "Rain When I Die." In fact, on a tour that was expected to focus on the new material, AIC only played four songs off their latest release ( "Check My Brain," "Your Decision," "Acid Bubble," and new single "Lesson Learned"). The crowd was more than pleased, enjoying every minute and singing with career-spanning classics like "No Excuses," "Angry Chair," and "Down In A Hole." The closing set was a brilliant choice: the powerfully emotional "Rooster" (with war-themed video playing in the background), followed by encores "Man In The Box" and "Would?"
The set could be easily described in one word: tight. From the instrumentals to the extensive signature harmonies, AIC nailed every note, proving very little needs to be added in the studio. The multiple microphones set up on both levels of the stage allowed lead guitarist/vocalists Jerry Cantrell and William DuVall to roam the stage freely, and always be near a mic. Though the band's interaction with the crowd was kept to a minimum, Cantrell was clearly the star, as the crowd showed him tremendous respect as the band's true foundation; DuVall held his own though, as the vocal doppelganger of late frontman Layne Staley. The only disappointment was the set length — they played for a mere 70 minutes, though with no extended solos, breaks, or monologues, they certainly made the most of it.
The opening set by prog-metal torchbearers Mastodon was a bit too muddy, but at that volume and speed, nobody seemed to mind. As for the Deftones, frontman Chino Moreno screamed and yelled his way through their set, a perfect blend of old and new that hit on all the crowd favorites.
— Carter Moss
Category: Featured, Live Reviews, Weekly