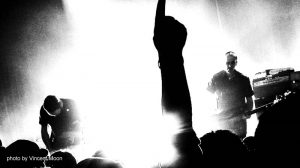 After 15 years, six studio albums, and a fistful of compilations, soundtracks, and EPs, Mogwai has finally released an official live album. Sure, there have been plenty of live versions of songs available before, but nothing previously released comes close to conveying the spacious bliss, skyrocketing build-ups, and shock-and-awe crescendos the way Special Moves (Matador) does.
Available as a triple LP or CD with accompanying download, the album comprises performances culled from Mogwai's three-night residency at Brooklyn's Music Hall of Williamsburg in April 2009. As a cohesive set showcasing Mogwai's dynamic sonic fury, it far exceeds Government Commission and the other various live tracks that have littered past EPs and the Young Team reissue. If your speakers and neighbors can handle it, crank up "Mogwai Fear Satan" or "You Don't Know Jesus" and succumb to the blood-chilling catharsis, as the avalanche of frenzied guitars rip apart the tranquility. The pacing of "Friend Of The Night" and the elongated phrasing in "2 Rights Make 1 Wrong" both produce blistering, brilliant highlights, even at their vastly different intensity levels. The production and sound quality are superb, capturing precise instrumental detail and the raw, cavernous hurricane of sound that rattles your bones and ruffles your hair. With a track list that hits virtually every one of its career highlights, Special Moves stands as the definitive document of Mogwai, live.
 
Released in conjunction with Special Moves, Burning is a documentary-style film by Vincent Moon and Nathanael Le Scouarnac of La Blogotheque's Take-Away Shows, that compiles concert footage from the same set of shows. Filmed in stark, grainy black-and-white stock, the film aims to present a tightly wrought perspective of the actions and momentum generated to perform the music, and the rhythmic interaction of the band. The tracking and framing reference cinema verite's observational perspective, but the vertiginous angles and severe closeups are closer to surrealistic montage, and demand intense visual acuity. Claustrophobically tight, blurry shots recall the photography of Uta Barth, and such juxtaposition reveals some beautiful moments and some frames capture startling images. The blown-out glint from a crash cymbal bleeds into the sparkle on a Strat; a shimmering highlight and a blurred hand zig-zag across wobbly, vibrating strings. Hands hammer violently and swaying bodies undulate with poetic grace, even as they grind out ear-shearing feedback and thrashing rhythms. Cliché shots of amps and effects pedals are limited; instead, we see acute angles of drum racks, and the gentle curve of guitar tuning pegs. A long shot casually reveals additional band members, as the sound deepens with each additional instrument; a knowing look and casual nod ignites the explosive whirlwind in "Mogwai Fear Satan." Although the film's track list also showcases Mogwai's best, it doesn't simply reprise Special Moves (or conversely, Special Moves isn't simply the soundtrack for the film), so the album and film are unique documents capturing Mogwai's rapturous live performance.
— Patrick Conlan