Q&A with Jeff Daniels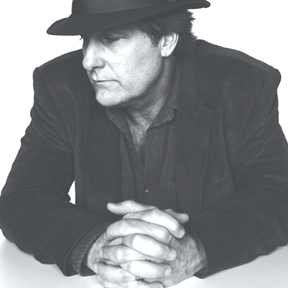 IE: Your musical ambitions seem pretty friendly and harmless.
Jeff Daniels: I'm not trying to hurt anybody.
IE: Were you reluctant at first, or the guy "Jesus, Jeff's got his guitar out again."
JD: I avoided it at all costs. The "Michael, Row Your Boat Ashore" or "Kumbaya" around the campfire – I was never that guy. I only came out, so to speak, because we needed to raise money at [Daniels' acting theater] The Purple Rose. The fall show was out and the winter show hadn't started, and I was looking at the theater going, "We need to raise some money. We should be doing something – there's a lot of people in the area. What can we do that's cheap or, God forbid, free?" They said, "Well, you and your guitar can go on out there and we can sell tickets to that." And then it was, "Great. Me and my big mouth." I did that in 2000, and I was absolutely terrified. I was just a backporch player.
IE: So when you write material, do you think primarily of augmenting a set?
JD: There's a standard set that I've been doing for awhile, but I keep writing stuff that wants to get in. Sometimes you're in a place where it's the "listening" room, where they want to hear the writing. Or you feel like a third of the audience are guitar players and want to see some guitar work. "Here are those." So I gauge it off of them. Or it's "I want a beer and I want to laugh tonight. Please make me laugh tonight – I've had a rough fuckin' week."
IE: Have you ever bombed?
JD: Oh, yeah. Absolutely. Oh. Oh!
IE: Is it a compounding of mistakes after not reading the room right?
JD: It's they're not buying "actor-boy singing." It's usually something where I'm brought out and it's the wrong setting. If you're somewhere where there's something else they can be doing, like, oh, I don't know, turning around and walking to the bar at the back of the room? Or it's a fundraiser and it's Washington D.C. and it's who's-important talking to who's-more-important and you're up there singing your little funny song about a recreational vehicle? Uh-uh.
IE: You've got to get a taste for the big cancellation. You need a bit of primadonna, and I'm not getting that from you.
JD: I have been with divas, and I have also seen great people like Clint [Eastwood] and Meryl [Streep], in particular, who are not that way and who can with one remark or one burst of talent completely bring that diva to his or hers knees. I like using Clint and Meryl as models for what I should and shouldn't be doing. It's the mediocre who behave that way, I'm afraid. .
Jeff Daniels plays September 17th at Space in Evanston. His fourth record, Live At The Purple Rose, is out now. Q&A by Steve Forstneger.