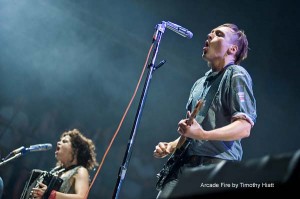 A lot of 'Palooza coverage has focused on a general overview, with brief glimpses of the sets. We sent Jaime de'Medici out with a focus.
Visit our photo page for extensive galleries!
It was only fitting that the physical event footprint for this year's Lollapalooza would be extended, as the festival's prime performances brazenly reflected a more-is-more mentality. Like attendees trekking across the larger landscape, headliners Lady Gaga and Green Day also strove to deliver larger-than-life productions. Whether this was in anyone's best interest depends on your tolerance level for needless filler and self-indulgence.
For Saturday-night heavyweights Green Day, a heavy case of bloated showboating did its best to minimize the actual musical impact of the band's set. Over two-and-a-half hours, the Berkeley-raised trio resorted to a seemingly never-ending string of pandering circus tricks, including, but not limited to, fireworks, pyrotechnics, bringing children onstage, and relentless covers (The Isley Brothers' "Shout") and puzzling teases ("Sweet Child O' Mine," "Highway To Hell," and — honestly? — "Stairway To Heaven"). It didn't help that the outfit waited until mid-set to arrive at earlier, more revered material, including fan-favorites from 1994's Dookie. To Green Day's credit performances like "Basket Case" and "She" — played without gimmicks or endless chatter — served as reminders of the pop-punk powerhouse's initial and undeniable immediacy. It's just too bad they chose to let a fan perform (admittedly decent) karaoke throughout the entirety of "Longview," as that song, as much as any other in the set, deserved Billy Joe Armstrong's straightahead brat-punk vocals. Between primarily new-school Green Day fare, Armstrong's idle chatter quickly moved from endearing (He's calling out Chicago!) to borderline insultingly pandering, (He's calling out Chicago — in every. single. song.), save for stories of the band's early days at The Fireside Bowl. While it's unrealistic (and frankly unfair) to expect Green Day to stay frozen in time, forever apathetic, snot-nosed, ceaselessly sneering punks, it doesn't seem too much to ask that the band not transform into caricatures of their Rockband selves. As it is, the band in its current form delivers the kind of show Armstrong and co. wouldn't be caught dead at in their prime.
One night earlier, one of Friday's two headliners was in her prime, and wasn't about to let anyone forget it. Laboring just past the two-hour mark, Lady Gaga delivered a show not at all unlike the one she performed back in January. Unabashed glam theatrics abound throughout the pop diva's set, from harried costume changes to writhing, impossibly chiseled dancers and a long-haired, shirtless guitarist named Jesus shredding on a shining silver axe. (Not even making this up.) All of which, of course, is fairly par for the course in a live Lady Gaga headline set. What made Friday night different, however, is it marked the singer's return to the Lollapalooza stage after performing on the BMI stage in 2007, a performance front-and-center Friday's spectacle. Throughout the evening, Gaga again and again revisited that set, intent on reminding the assembled masses that she had, in fact, officially made it, even after an unnamed source called her past BMI set a "trainwreck." While there's no doubt a headlining spot at Lollapalooza must be sweet revenge against past doubters, one couldn't help but think if Gaga brought it up once, then let it go, it would've served her set far better. Thankfully, selections like "Beautiful, Dirty, Rich," which saw Gaga and crew slithering through a flashing, light-up jungle gym helped keep the evening's mood upbeat, while the cabaret stomp of "Teeth," led by a snarling, fake-blood-doused Gaga showcased the singer's more ferocious side. And while piano-ballad missteps like the Tori Amos-esque "Speechless" and new cut "You And Me" slowed the evening's momentum a bit, the majority of Gaga's set remains, to the surprise of no one, a theatrical sight to behold.
By comparison, Sunday night headliner Arcade Fire opted for an equally expected approach, delivering a gimmick-free performance. The group moved primarily between its full-length debut and just-released, third offering The Suburbs, with selections from middle child Neon Bible sprinkled in. Live, the new "Ready To Start" hummed with ominous energy leading to a tension-releasing breakdown, while "No Cars Go" demonstrated the celebratory essence of much of the group's set. Yet while Arcade Fire's energy consistently proved spirited, the group suffered slightly from a quiet mix, especially during hushed material like the acoustic-intro'd "Rococo" and the gradually increasing "Intervention." So low was the outfit's volume at the start of the set that between songs, Soundgarden's cross-field grunge jam was heard loud and clear (spoiler: it played "Outshined"). Thankfully, as the group's set progressed, so too did its energy and intensity, making up for the lack in amplification. Nowhere was this more apparent than in earlier material like the undeniable "Rebellion (Lies)," itself leading the crowd in a mix of crooning and building clapping, and the hyper-kinetic "Funeral #3 (Power Out)," the apex of the band's set, strobing red-and-white lights highlighting the act as it performed with an undeniably dire and electrifying energy. In a weekend of bill-topping acts steeped in theatrics, it was nothing less than reaffirming to witness vibrant rock exuberance without the all the needless special features.
— Jaime de'Medici
Category: Featured, Live Reviews, Weekly