Week Of July 20, 2010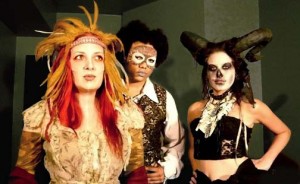 Just as the Pitchfork weekend gets over, the summer's just heating up! (Bang! Pop! Kerblooie!) We have a whole feast of shows that'll make you sweat! Sweat! Sweat!
Like tender workout instructors (or lovers, whichever you prefer), we'll let you stretch out a bit before we dive back in. (Peculiar thing about Pitchfork: you don't realize how much standing and walking you've done until you sit down and your legs start twitching.) JBM (Jesse B. Marchant) cozies up to Nathaniel Rateliff's fans on Wednesday, the 21st with a non-lo-fi brand of Leonard Cohen and Low. Downcast but not gloomy, serious without being severe, Not Even In July (Partisan) approaches singer/songwriters with extreme prejudice. Rarely even considering I-IV-V chord changes, the title track clings to a minor key and "Ambitions & War" steps up the pace only to protest. Naturally, black humor fits into his repertoire, which he deftly weaves into the morbid "Swallowing Daggers" and its relatively sunny disposition. (@Schubas with Nathaniel Rateliff)
Thursday has too much going on, but we'll try to make sense of its overbearing hotness.
Though they're a little late to impact the Russian monarchy, Rasputina are pregnant with ideas on their seventh album. Seven's an awfully big number for a cello-driven rock outfit most people didn't expect to survive a full tour. But Rasputina — captained by Melora Creager since, ahem, 1891 — have sailed past expectations into a world completely gothic, scary, and their own. Sister Kinderhook features a male cellist for the first time (Daniel DeJesus), though there's nary a cock-rock element to be had. Creager touches on Emily Dickinson (opener "Sweet Sister Temperance"), current events that were current when the band was formed ("Calico Indians"), and dreamland heartache ("A Holocaust Of Giants"). (@Abbey Pub with Larkin Grimm and The Dead Superheroes Orchestra.)
The battle for country and Americana's soul continues at separate venues on Thursday, as Blackberry Smoke invade the traditional confines of Joe's and kitchen-sinkers Rose's Pawn Shop battle Double Door. Blackberry represent the peak of versatility for a Southern rock band, able to flip through a Rolodex of influences on Little Piece Of Dixie (Bill Monroe, Lynyrd Skynyrd, Alabama, George Jones) with uncommon ease. While the album frequently hits more on tribute than growth, tipping the likability and familiarity scales has never been a bad thing in their genres. RPS, however, are self-dubbed "bluegrass-a-billy" and come at it with boot-stompin' alt-country, PBR style. This summer's upcoming Dancing On The Gallows doesn't surge with punk fever, however, starting with string-band pop and Irish-leaning Appalachian fiddle work before getting Tex Mex with "Pine Box" and then bursting into "Ball Of Flames." The highpoint is a daytrip to Bakersfield, with a Yoakam-esque "The Bed In Which You Lie." (Blackberry Smoke @Joe's with Rio Grand and No Justice; Rose's Pawn Shop @Double Door opening for Scott H. Biram and Lasers And Fast And Shit.)
Early ticketholders should note that Bloc Party frontman Kele Okereke has switched venues from Metro to Subterranean for Friday's show. With alarming consistency, reviews of The Boxer (Glassnote) mentioned last year's solo debut from Strokes' frontman Julian Casablancas. But while the latter used electronic touches to date his faintly new-wave pop rock, Okereke has clearly been immersed in all manner of British electro, from dance to trance to drum and bass to garage. If there's a loose comparison to be made, it's with Thom Yorke's The Eraser. Okereke's less ambient, however, and at first manages to kick Bloc Party's sometimes-overwhelming sincerity out of the way. "Tenderoni" easily seems like the pinnacle of his imagination for this project, though the surprises (including the preceding two cuts, which also open the album) set the table under false pretenses. For much of The Boxer, Okereke still dabbles in territory his band touched on with 2008's Intimacy, something driven home by album closer "Yesterday's Gone." (@Subterranean with Jessica 6.)
— Steve Forstneger
Category: Featured, Stage Buzz, Weekly