Be Here Now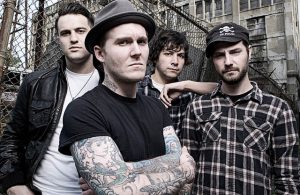 "Now that the record's over and we can look back on it, I really enjoyed the record. I think everybody in the band did a really nice job and played well and, for the most part, we enjoyed the process. It always feels like an accomplishment to me, just to finish a record: same guys that it's always been, we're all still friends, we like the record, and we got through it. So, I guess I'm proud of everybody in that way."
Appearing: July 27th at House Of Blues in Chicago.
So says Benny Horowitz, drummer of The Gaslight Anthem, on the band's third and latest full-length, American Slang (Sideonedummy). To hear Horowitz, it was not a record born of near breakdowns or breakups, or any of the drama bands seem to manufacture behind every new release. The simple truth is, The Gaslight Anthem might not have had time for such petty indulgences. All told, the act has had a busy couple of years.
The New Brunswick, New Jersey-based outfit — rounded out by vocalist/guitarist Brian Fallon, guitarist Alex Rosamilia, and bassist Alex Levine — debuted on the underground circuit in 2007 with Sink Or Swim. Yet it was the group's second offering, 2008's nostalgia-soaked The '59 Sound, that put it on the map, with its blend of alt-country-tinged blue-collar blues-punk. Now, following that record's relentless two-year touring cycle, which took the band from the States to the U.K. and even Australia, the band is already following up with American Slang, a markedly more present and no-nonsense effort. If it sounds like a hectic schedule, it's because it is. Yet Horowitz is quick to reassure that, upon finishing the final '59 Sound dates in November of last year, the band took a well-deserved break.
"Well, we took like, three weeks," the drummer admits, laughing. "Nah, we did have a little bit of time. 'Cause even though we got off the road . . . it was just the first time in a really long time we'd been home. It was actually the longest we'd been home in like four or five years. So, even though we kind of just got right back to it, and started writing the record and practicing, we were home and we were going home every night, and it was a little bit of a different scenario."
Writing for a new record began toward the end of the final run of '59 Sound dates, Horowitz recalls, though the band ended up scrapping anything that came from those sessions. Rehearsals began in January and the members wrote for two months, before two weeks of pre-production and five weeks of studio time. The end result of such an industrious work ethic is American Slang, an effort distinct for its absence of Fallon's spacious vocals, resulting in the singer coming off much more immediate and upfront. ("I think Brian decided he wasn't going to use the clean echo on his voice probably two weeks after The '59 Sound came out," Horowitz confirms.)
Similarly absent is the sepia-toned nostalgia that so prevalently defined The '59 Sound. Instead, the effort's timbre is that of a band that's grown up quite a bit on the road, and in not a great amount of time. That maturity is evident in the cautious "The Queen Of Lower Chelsea," which finds Fallon declaring, "American girls, they want the whole world/they want every last little light in New York City," in a way that lets you know he speaks from experience. "We Did It When We Were Young," meanwhile, is far sparser than anything off The '59 Sound, and while it does look to the past, it's undeniably from a tired, wary perspective, not casting a revisionist tint. It's a theme that carries over to the more upbeat but no less troubled "Haunts," a more riff-laden and unhinged cut that finds Fallon cautioning, "So don't sing me your songs about the good times/those days are gone and you should just let them go/and God help the man who says, 'If you'd've known me when.'" It's not hard to guess whom he's talking to.
— Jaime de'Medici
For the full feature, grab the July issue of Illinois Entertainer, available free throughout Chicagoland.