Blues Baby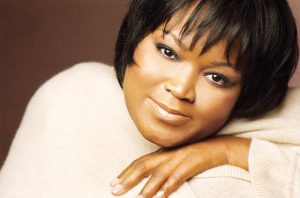 The blues had a baby and it called her Shemekia. Nursed on her father Johnny "Clyde" Copeland's legacy of throbbing, funk-filled blues and groomed on the nuanced belting of Otis Redding, Sam Cooke, Mahalia Jackson, and O.V. Wright, Shemekia Copeland represents the greatest contemporary blues hope since Stevie Ray Vaughan. At 31, she's a mere toddler by blues standards but with five critically acclaimed albums and a voice filled with enough power and poise to inspire a royal title, she stands firmly positioned to steer the blues back into pop-culture visibility.
Appearing: July 10th at Old Town School Of Folk Music's Folk & Roots Festival in Chicago.
"My main goal in life is take the blues in a new direction," says Copeland, "I want to see it go further." Copeland appears uniquely equipped for the task. She started performing regularly at New York's legendary Cotton Club by age 9 and released her debut record at 19. Raised in Harlem during the birth of hip-hop, she absorbed the beats and rhymes but preferred listening to classic soul. She also loved to hear her father perform his crisp, Texas blues. The influences of all of these genres can be glimpsed in Copeland's vocals, which combine an MC's swagger with a soul singer's emotion, poured into the blood and guts of the blues. She easily melds the music of three generations to create blues music that's catchy and still rooted enough in tradition that it appeals to blues lovers as well as people who never listen to the blues.
Copeland's current CD, Never Going Back (Telarc), demonstrates her capacity to leap over narrow expectations with 12 of the most polished and diverse songs of her career. From a graceful Joni Mitchell interpretation to riveting originals, the album delivers all that blues could and should be. The opening track, "Sounds Like The Devil," slams into a slow rhythm paired with Copeland's assured belting for the perfect contemporary blues lament about bogus politicians and preachers: "I ain't got health care/Lord it ain't fair/I can't even afford to die/they say they treat us all like family/but it sounds like the devil to me." On the funky "Dirty Water," Copeland's voice shimmies like the Mississippi itself and on the title track, she calls up the fervor of a young Etta James but with more control. Her cover of Mitchell's "Black Crow" packs a surprising wallop, with the singer gently layering blues over the jazz undertones.
"For me, it's about the lyrics," says Copeland. "I have to be able to jump into the music and be a part of the song. I got tired of avoiding religion and politics [in my music]. As I get older, I feel I have the right to say what I want to say. I'm 31, I've done my share of living and I know what's going on. When I first came out I was 19. I hadn't even voted."
Copeland's love of great songs and their most pivotal interpreters appeared early; she can remember listening to classic soul songs over and over, the way other children constantly watch the same movie. "I remember feeling things when I listened to music," she says. "I can remember hearing Otis Redding, Mahalia, and Sam Cooke for the first time and listening to them over and over for months. Her father wrote her little songs and she sung them around the house. Johnny Copeland declared that his daughter would be a singer when she was still an infant, but it wasn't until she was a teen that she became convinced.
"I do believe that I was destined to be a blues singer, but at first, I thought it was crazy to get on stage in front of people," she says. "I thought I'd be a psychiatrist — I wanted to help people." It wasn't until her father's failing health when she was 16, that she realized that it was time to take up the torch. "I realized that this was what I was supposed to do. Now I help people with my music."
Indeed she does. From the motivational anthem of "Rise Up," where she instructs, "When life hits you like a truck/ you gotta rise up," to the healing acoustic blues of her father's "Circumstances," which she interprets with rousing spirit, Copeland's music serves as a road map guiding listeners through life's challenges. It also provides a convincing demonstration of the genre's ability to grow with changing times. "I'd like blues to be played on mainstream radio," says Copeland. "I'd like to see blues on the regular pop charts, not just the blues charts. I'd like it to do as well as all the genres."
Ultimately, it's up to music fans and music-industry leaders whether blues accomplishes all of those objectives, but Copeland is determined to do her part. "I want listeners to know that they're listening to my life. I want them to feel the passion that I have for this music."
— Rosalind Cummings-Yeates
Category: Columns, Monthly, Sweet Home