Fear No Art, Chicago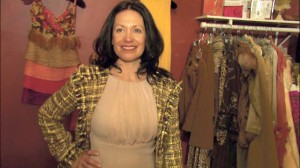 "I felt that there was nothing that went behind the scenes showing how human the process of making art is: its mistakes, conundrums, miracle moments, etc. I wanted to discover the artists behind the art, showing the human side, and thus making the arts more approachable for people," says Elysabeth Alfano, host and executive producer of the new 30-minute arts TV show "Fear No ART Chicago," which airs quarterly on WTTW-Channel 11 and posts new, smaller segments at www.fearnoartchicago.com.
Alfano knows firsthand about her topic. "In my art gallery and with my clothing company, I saw that while not everyone followed fashion or collected art, everyone was fascinated by the life of the artist and what was going on in the studio."
Not that they'd actually venture inside. "I found with my art gallery that most people were afraid to come in," she says. "If they hadn't studied art history, didn't have money, or didn't feel educated about the exhibit, they felt intimidated. This show aims to bridge the gap between the public and the arts and deconstruct any sort of wall that separates the two."
She says her varied background has come in handy — including a stint teaching marketing for the visual arts at Columbia College (one of the show's sponsors). "All previous experiences prepare you for the next experience," she explains. "My public speaking while teaching at Columbia College was very helpful to me for what I do now. I produce 'Fear No ART Chicago' on the smallest of budgets, so I don't have time for many takes. I have to get it right out of the gate. "
The show is not produced by WTTW; instead, Alfano does everything herself. "I pound the pavement looking for underwriters and sponsors," she says, noting that she recently added a single intern to her staff.
The first show included segments on fashion designer Lauren Lein, the chefs at Moto restaurant, and local musician Nicholas Barron. Alfano is "very open" to new music, and performers can send their links to elysabeth [at] fearnoartchicago.com.
Alfano adds that local media plays a vital role when it comes to local artists. "If we want art in our community, it is up to us to make it so," she says. "That means local media covering local artists. Otherwise, people won't know about the arts, won't be able to support the arts, and the arts will disappear."
THE NEW, SLIMMED-DOWN NUDE HIPPO: "Big Fat Nude Hippo" had a great run on cable TV from 1997 to 2007, where it evolved from a sketch comedy show to a magazine-style talk show. In 2006 it was picked up by NBC.com, where short segments "aired" on the station's Web site for a year.
Now, the show is back on NBC.com, where new segments are regularly posted NBCchicago.com and www.nudehippo.com. "The first big difference that you may notice is how we no longer have a studio portion with magazine-style reports," says producer Tony Lossano, who now stays behind the camera and does double duty as morning show producer at WLIT-FM 93.9. "We are refocusing our field reports to be more like a reality format with strong personalities rather than just a bunch of feature stories done like if we were on a newscast. "
Only not as serious. "My team is not pretending to have ethical standards; they are there to show you something awesome and will entertain you in the process," he adds.
That team includes longtime contributor Amy Zanglin, as well as Ashley Lobo, Gina Ferraro, Nick Rosario, and Pogo. The last is the show's music contributor, who plans to include acts such as Matt & Kim, Drive-By Truckers, Frightened Rabbit, The Big Pink, and Minus The Bear.
Lossano says he's a fan of the Web TV format. "We now cover the things that we want, when we want, without the pressure of filling a 30-minute timeslot once a week. However, we average around three new segments a week — and they can be seen wherever the interweb reaches."
ODDS N SODS: The final nail in the Reader's coffin could be the firing of longtime editor Alison True earlier this summer. (Full disclosure: I wrote under True for many years at the Reader.) Apparently True was the one trying to keep the paper local and relevant, despite being the hatchet man for cutbacks after the weekly's sale to Tampa-based Creative Loafing in 2007, that company's bankruptcy in 2008, and its sale to the Atalaya Capital Management hedge fund in 2009. We wish True — and what's left of the paper — well . . . Local content has also been suffering in the electronic-media world, where WGN-AM (720) program director Kevin "Pig Virus" Metheney continues to jettison local angles, as does Window To The World Communication's WTTW-Channel 11 — which canned some 30 people in June as part of a $3 million budget cut. Note to bean counters: Chicago audiences have always preferred local talent addressing local issues, and can smell bullshit from miles away — even when it's holed up in remote ivory towers.
— Cara Jepsen