The Town Krier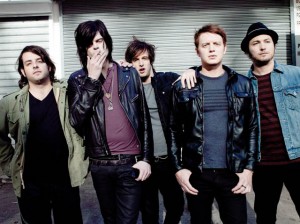 Sitting at a nightclub bar, post soundcheck, Adam Krier was doing his damnedest to maintain the icy bohemian look that's become his trademark. It wasn't easy. His tall, angular, jean-jacketed frame was hunched mantis-awkward over his club-provided meal, and — without his customary Wayfarer shades perched beneath his shaggy black bangs — the guy was blinking like a befuddled mole in the bright afternoon sunlight. Soon he'd unfold to his full height and command the stage with his old-school rock outfit AM Taxi, a phoenix rising from the ashes of long-struggling Chicago hopefuls Lucky Boys Confusion. But right now, it looked like he'd rather be tunneling back down into his dark, safe burrow again.
Appearing: June 5th at First Midwest in Tinley Park.
Krier is also self-deprecating to a fault. Ask his age, and he shrugs, good-naturedly, then snicker-snipes, "Twenty-five. For a while." Ask about the unlikely title of AM Taxi's Virgin/EMI debut, We Don't Stand A Chance, and he'll openly admit that he's not exactly pessimistic, but "cautiously optimistic about how far a rock band can really go these days. We don't have neat hair or drum loops or any kind of gimmick like that." And rather than rottweiler-woof or weasel-whine like some pretentious emo halfwit, he adds, "I actually try to sing, sort of."
But make no mistake. Current mantis/mole look excluded, Krier is a star just waiting to happen. A guy who lives, breathes, snarls, and sweats classic 4/4 riffs, with no apologies. Chance is positively bristling with arena-huge hooks, pounding guitar/keyboard filigrees (courtesy of brothers John and Luke Schmitt, respectively), and the rocket-propulsive rhythms of drummer Chris Smith and bassist Jason Schultejann (Krier's old Lucky Boys compatriot). All cemented by the frontman's gruff, whiskey-seasoned plaints. Potential hits abound on the Mike McCarthy-produced set: "Charissa," "Dead Street," "The Mistake," and the Bad News Bears-inspired "Tanner Boyle V. The 7th Grade."
What sets Krier apart from many other contemporary bandleaders? He knows his shit. Seriously. And he's not afraid to back his bark up with a few well-placed bites. "I just had this conversation in a bar where I wound up defending Springsteen," he growls. "Some guy goes 'Aw, Bruce — he can't sing and he never wrote anything good besides "Glory Days"!' And there's not much you can really say to someone like that — a lot of people just equate Springsteen with 'Born In The U.S.A.,' and they don't really know much beyond that. They don't know about his older records, or what a great writer he is or how important he is. Or," he adds, as a subtle nod to his own true-blue Taxi gang, "just how incredible his band is."
How did Krier win his argument without resorting to fisticuffs? "I always try to get people to watch Springsteen's concert from '75, At London's Hammersmith Odeon," he explains. "If you let anyone see that, they'll shut up right away. And Bruce and the E Street Band's The Rising is great one, too — post-9/11, it was so therapeutic, which was the best part. People can really get something out of it. Like sometimes, when you're feeling a certain way, you just need to hear somebody else say that they feel the same."
The singer confesses that there's a lot of E Street running through Chance. And he waxes nostalgic about Let It Be-era Replacements and Superstar Car Wash-period Goo Goo Dolls, back when they were a powerchording punk trio. Krier says his musical schooling began with his parents' record collection: "I was digging through their albums from 8-years old on, long before I ever discovered punk. My folks had Paul Revere & The Raiders, The Dave Clark 5, all the British Invasion stuff, plus a lot of Motown. So I had this really great education, this deep background, long before I discovered punk or dove into this modern alternative stuff. But in junior high, I started listening to The Replacements."
Krier also instinctively understands the historical chain of command. The Goo Goo Dolls' Johnny Rzeznik, he says, "is a really good songwriter. But you can definitely tell that he was listening to a lot of [The Replacements'] Paul Westerberg in the beginning. But one of the coolest things about The Replacements was that they never said they were a punk band, and they weren't ashamed to admit that they wrote pop music. Westerberg wasn't ashamed to admit that Alex Chilton of The Box Tops [and Big Star] was one of his idols. I mean, The Buzzcocks probably never said anything like that."
Beginning to get a clue about how the man composes songs? He doesn't have any elitist illusions, Krier swears — like Rzeznik and Westerberg before him, he's a solid meat-and-potatoes kind of guy. "I always follow a general format of verse/chorus, verse/chorus," he says. "But if the song calls for something else, I'll give it a go." He's also interested in the zenlike nature of the craft. As in, How does one pen a truly original number these days, when musicians have already conceived almost every possible chord sequence?
It's no mean feat to come up with something new, Krier says. "Especially when you're playing rock 'n' roll. Every melody's been done, really. And every last arrangement. Just look at the music from the '50s and the '60s. It was all based on the 12-bar blues or doo-wop progressions, and everybody was ripping everybody off. And the same thing was going down with the blues. So I don't know what the exact answer to that question is, except that you really can't think too much about it." He's just using AM Taxi to turn personal tragedy into arena-rousing anthems. "Or trying to, at least. I don't ever wanna get ahead of myself."
So who's "The Mistake"? Krier pauses before responding. "Uhhh . . . that's a few events, a coupla things I've gone through and a coupla things I've seen other people go through. It's sort of a one-night-stand type of story." That's his lyrical style, he adds — totally observational. "I mean, I don't walk around taking notes or anything. But I definitely take mental notes. So most of my lyrics are about stuff on the road, people I've met . . ."
So there's a real girl named "Charissa" out there somewhere? "Yeah," its author admits. "But that song's not actually about me. It's about this couple, and I'm singing from the perspective of the guy. And he's a great guy, but he's kind of a fuckup. Let's just say that he puts up with a lot, so there's something to be said for true love when you can put up with all that."
Krier wasn't the frontman in Lucky Boys Confusion. But he's stepping confidently into the spotlight this time around. Even if he's not sure exactly what it is he's stepping into, personally-speaking. So many hopes are riding on We Don't Stand A Chance actually standing one, he says, from label execs all the way on down. And it's rather daunting.
"When we got together, our expectations were just to get together and play as much as we can, and reach out to as many people as we can," Krier concludes. Hence AM Taxi's double-entendre album title. "Because the way I look at it is, everybody from time to time feels a bit hopeless. So maybe it's nice to know, at least occasionally, that you're not the only one."
— Tom Lanham