Allstate Arena, Rosemont
Monday, May 24, 2010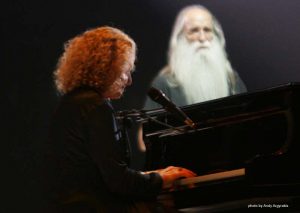 Forty years ago, right on the crest of the singer/songwriter movement, Carole King and James Taylor first shared the stage at West Hollywood's now legendary Troubadour. Though their paths have crossed on the pop and rock charts repeatedly since (and they've also swapped album credits), the Troubadour Reunion Tour marked their first official outing since that fateful 1970 stand.
The two act, two-and-a-half-hour evening found both ultra-accomplished artists performing on a circular stage that sought to make the arena confines more intimate, with special consideration for the organic nature of their material. Though there was no disguising the venue's cavernous nature (nor could it ever compare to King's 2004 Living Room Tour), several massive screens, tasteful mood lighting, four band members, and three background singers helped make up for the distance.
More than merely the performers, the emphasis was on the songs themselves: King sat behind her grand and Taylor stood tall with acoustic guitar strapped firmly in place. After kicking off with the soft-spoken folk of "Blossom," the pair ushered in the gorgeous piano ballad "So Far Away," demonstrating their simple but remarkably poignant songcraft. From there, the storybook songs came with quiet persistence, from Taylor's rousing "Carolina In My Mind" to King's stomping "Smackwater Jack."
That latter comes from King's iconic Tapestry, which was on display in near entirety, benefiting greatly from Taylor's pitch-perfect harmonies considering King's voice has noticeably weathered. Still, the 68-year-old's prowess was undiminished, captivating with a cavalcade of classics that included "(You Make Me Feel Like) A Natural Woman," "Will You Love Me Tomorrow?," and "It's Too Late."
Though not known as much for a single album, Taylor, 62, more than proved his catalog's merit, augmented by King's delicate key strokes and occasional background vocals. "Shower The People," "Sweet Baby James," and "Fire & Rain" were among his most treasured pieces of musical poetry, while "Mexico" and a duelling "Up On The Roof" (penned by King for The Drifters) tipped towards the rock scales thanks to the beefed-up backing band.
The concert hit an emotional pinnacle during a duet rendition of the King-penned/Taylor-covered "You've Got a Friend," echoing the pair's solid personal relationship and conjuring wistful nostalgia in the process. Taking a trip down memory lane was clearly the show's overall goal, though presenting new material would've provided a stronger gauge of the duo's current artistic vitality. But by the time they got to the reflective finale "You Can Close Your Eyes," it was apparent both artists will never be confined to a particular period, instead standing the test of time with parallel bodies of brilliant work.
— Andy Argyrakis
Category: Featured, Live Reviews, Weekly