A-ha live!
Riviera Theatre, Chicago
Thursday, May 13, 2010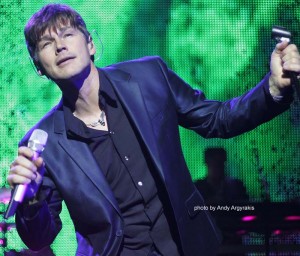 To the bulk of American audiences, A-ha will always be remembered for its monster smash "Take On Me," which once topped the charts and has since been spun an average of 375 times a day. But to the rest of the world, especially in Europe, the group's gone well beyond one-hit-wonder status to the tune of 35-million albums sold throughout 25 years of packing arenas.  
Although that trend continues overseas on the band's globe trotting farewell tour, Stateside audiences in New York, Chicago, and Los Angeles had the chance to catch A-ha in the much smaller theater setting as members joyrided through 21 tunes spanning 1985's breakthrough
Hunting High And Low
to the new, import-only
Foot Of The Mountain
. While the Oslo-based band saved the best track for last, the two hours that preceded allowed U.S. fans to play catch-up and trace the group's evolution.  
After opening with the synth-saturated current cuts "Foot Of The Mountain" and "The Bandstand," A-ha unfurled the lush piano-pop offering "Analogue" and the chunky Brit rocker "Minor Earth, Major Sky." In spite of those tunes never making waves in America, it was easy to follow the group's influence upon younger generations, with the likes of Coldplay, Keane, and Robbie Williams openly admitting their admiration. Additional examples of A-ha's pop-anchored ethereal grandeur came throughout the sublime "Summer Moved On" and the melodic ballad "Stay On These Roads," the latter of which found frontman Morten Harket hitting the same ultra-high notes from two decades ago.  
Of course, there were plenty of new wave nuggets on the docket, including the danceable "The Blood That Moves The Body" and the icy keyboard-entrenched "Manhattan Skyline." As the evening wore on, it was apparent A-ha was working its way in reverse chorological order, climaxing with an encore of "The Sun Always Shines On TV," which also earned plenty of MTV and standard airplay, plus its first album's title track, which could've very well been the original Duran Duran reincarnated.  
The grand finale was predictably "Take On Me," which, even past the point of ubiquity, is still an impeccably crafted hit single, accompanied by an even more innovative music video (that flashed behind the band). Nonetheless, A-ha delivered the track with plenty of enthusiasm and personality, leaving its last-ever Windy City performance on a high, but also providing plenty of evidence towards its merit beyond a single song.  
— Andy Argyrakis
Category: Live Reviews, Weekly