I'm Your Venus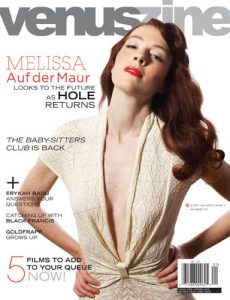 To celebrate the new issue, Venus Zine is offering one lucky winner . . . a shiny new Daisy Rock guitar, Melissa Auf der Maur's new Out Of Our Minds album/DVD/comic book. To enter, send an email to feedback [at] venuszine.com, with your name, address, and phone number. The winner will be randomly selected on April 25th and featured in Venus Zine's summer issue.
Chicago-based Venus Zine has been on hiatus since last fall's issue, which featured actress Cobie Smulders on the cover.
But now the quarterly glossy is back — with a new publisher and a mission to expand readership.
"We have a vision to continue to focus on women in music," says new publisher Sarah Beardsley, formerly of BearingPoint, Inc. Management & Technology Consultants. "Venus Zine has been committed to the indie music genre. That will continue. But we want to make it broader than that.
"We believe there is a demand for this type of magazine that's not being fulfilled by anyone else," she adds. "It's being written with respect for the reader, and is applicable to a broad spectrum of people."
The new issue just hit stands, and includes stories on Sharon Jones & The Dap-Kings, Erykah Badu, and Ebony Bones. The cover features former Hole and Smashing Pumpkins bassist Melissa Auf Der Maur, who's pushing a new film and graphic novel. "One of the features in the magazine is about crossover artists," explains Beardsley, a hands-on publisher who also runs her own media consulting firm. "Our objective is to reach more people and grow. There are people coming every day to the web site to check out what's new, and people finding us online in the social-networking community and in person and events and eventually [other ways]. We think there are so many possibilities to reach women who love the creative arts, that it really transcends just the indie genre."
With its 25,000 subscribers around the world and a web site that 's updated daily, the current mag is a far cry from the stapled, black-and-white zine that Amy Schroeder started in her Michigan State dorm room back in 2005. Schroeder slowly grew the magazine into a color glossy with no help from banks or investors. She sold 95 percent of the company to Anne Brindle and Marci Sepulveda in 2006, but continued as editor-in-chief until 2008 (she now lives in Brooklyn and works as a writer/editor for Girl Scouts Of The U.S.A.).
"I'm really exited about Sarah Beardsley as the new publisher," says Schroeder. "She is super-smart (she went to Harvard Business School), and she's working with a hard-working, talented staff."
"The mission has expanded to include more potential readers and potential Web visitors — to be a balance of strong music content as well as fashion and culture and DIY," says Beardsley. In the past, the DIY part focused on crafting. "We're adding to that with home décor features, decorating, and entertaining."
The mag was distributed at South By Southwest, and will also be given out at a Shecky's Girls Night Out party in Chicago April 7th and 8th at Union Station (see venuszine.com or girlsnightout.sheckys.com).
Beardsley says they're not selling out — just expanding. "We're continuing to do a lot of things that worked well for Venus Zine, and we're adding to it."
She adds that local bands should continue to send demo tapes and CDs, and let them know about upcoming gigs, "because music reviews and previews are a big part of what we do both online and print."
Schroeder says she's thrilled with Venus Zine's new direction. "Just like people, businesses must grow and change in order to thrive, and I'm looking forward to the new-and-improved direction. Venus Zine has a loyal following of readers and has the potential to grow considerably and reach out to a broader audience of creative, amazing women and men."
ODDS 'N' SODS: April marks the 40th anniversary of "Those Were The Days," the weekly old-time radio show created by Chuck Schaden, who last year handed over the reins to longtime fan Steve Darnall. Both will appear at a commemorative live broadcast on April 24th at the College Of DuPage. Guests will include Robbie Fulks and the West End Jazz Band as well as longtime announcer Ken Alexander, plus Will Clinger and Tim Kazurinsky will recreate some classic scenes from old-time radio. The $10 tickets benefit WDCB-FM (90.9); call (630) 942-4200. The show airs there Saturdays from 1 to 5 and at www.wdcb.org . . . Mancow Muller recently rejoined the swelling ranks of the local radio's unemployed after being canned by WLS-AM (890) (at press time, newsman Pat Cassidy was expected to land on his feet at a news station). Now, listeners can at least find podcasts by their favorites in one place: Chicagoland Radio And Media (www.chicagolandradioandmedia.com . . . Former Sun-Times media critic Robert Feder is really hitting his stride, since starting as media blogger at Vocalo.org last November. "Friday was a good day for convicted felons at Tribune Co.: one [Larry Mendte] turned up as a commentator on its television stations, and another [former Chicago city clerk Jim Laski] landed a midday fill-in gig on its flagship radio station," he recently wrote. "Both acts showed the depths to which a once-great company has sunk under its current regime of cynicism and contempt for the audience." And that's just the windup. Read the rest at blogs.vocalo.org/blog/feder. Cotto and Conn becomes Roe and Roeper: Look for the Sun-Times columnist, author, and movie critic to join Roe Conn's afternoon talk show on April 12th (2 to 6 p.m.) on Citadel Broadcasting-owned WLS-AM (890).
— Cara Jepsen