Schubas, Chicago
Thursday, April 1, 2010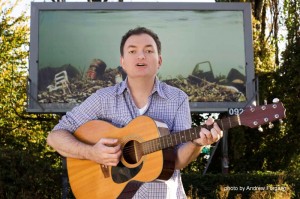 When IE interviewed Beulah back in 2001, frontman Miles Kurosky reluctantly admitted they were breaking up. It wasn't immediate — they lasted one more album — but, he reckoned, what was the point of it all?
Climbing the ladder to indie stardom (which wasn't much back then) wasn't something he wanted to stomach much longer, and he and bandmate Bill Swan were constantly butting heads. His return could be seen as a cynical ploy to claim what he thought was rightfully his, but the truth is he began work on The Desert Of Shallow Effects (Majordomo) just three years after Beulah busted in 2003. As such, there seems to be some relative continuity between it and Ono, being his trademark bright, Beach Boys melodies obscuring lyrical tempests. Considering the increasingly straightforward nature of Beulah's work, Desert feels delightfully unfurled, like a carpet full of chotskies and souvenirs, treading not only in his beloved Elephant 6 indie-pop, but hints of old-timey/stage-production country and explosions of brass.
Pancho-san opens.
— Steve Forstneger
Category: Stage Buzz, Weekly