Rosemont Theatre, Rosemont
Friday, January 8, 2010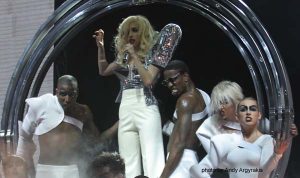 It was a good indication of the energy inside the Rosemont Theatre Friday night, when a pre-show video PSA, featuring Lady Gaga speaking out about the trials of abused and homeless gay and lesbian teens, was met with frenzied cheers from a barely teenage crowd oblivious to the gravity of the message. Another stage-side monitor, meanwhile, posted messages like "We tried to dress like Gaga but ended up looking like tranny hookers" and "Lady Gaga is a fierceatron!", texted in by the same eager audience, all of whom anxiously awaited the diva's onstage arrival.
Out in the venue's plush and carpeted lobby, true believers struck their best Gaga-inspired poses in corporate-sponsored photo-op areas, alongside and even inside Gaga-related props like a globe of interconnected rings. Before the first act even hit, the opening night of the singer's three dates at the Rosemont Theatre had already become a glam-infused house of mirrors.
Of course, such an event would need a proper opener to not only set the tone for the evening but amp up the nasty, both of which Semi Precious Weapons accomplished in spades with moments like frontman Justin Tranter declaring his intent to get the crowd, filled with junior-high girls, "wet." While Gaga would later in the evening claim herself as "beautiful and dirty rich," Tranter officially kicked off the night by showily declaring "I can't pay my rent but I'm fucking gorgeous!" The contrast highlighted the difference between the evening's first and last acts, with SPW's glam-rock decidedly rawer and rougher than Gaga's extravagant and consistently electro-tinged and glam-coated pop.
Yet the two artists held more in common than it might appear, as both Gaga and Semi Precious Weapons' music and personas thrived in absolute decadence, with Tranter sharing his champagne with the audience and stripping down to so much nothing for an onstage wardrobe change. Tranter dominated the hall's attention with his fierce and fabulous flaunting during selections like the sing-songy "Put A Diamond In It," wherein the flamboyant frontman repeatedly asked the hall "Who, who, who wants my baby?" It was a trashy thrash affair that proved the perfect fit for Gaga's sensory-overload circus.
And what a circus it was. Performing behind 2008's breakout The Fame (Cherrytree) and this past fall's mini-album The Fame Monster, Gaga's Monster Ball Tour delivered a production that proved nothing short of a spectacle, with the singer's Haus Of Gaga aesthetic in full, amplified effect. A constant whirlwind of costume changes and stage props accompanied practically every song, from the Gozer The Gozerian by way of Marvel Comics' Dazzler look of "Just Dance," which found the singer in a lit-up skin-colored suit playing a sparkling keytar, to Gaga sporting full metallic Egyptian cat garb for "The Fame." Oftentimes one song's fuller, more elaborate costume gave way to something skimpier and more revealing for the next, as was the case with the pop star's crowned ice-queen look for "Love Game" hiding a slight silver dress for "Alejandro," itself featuring especially sensual choreography among the show's stunning dancers. Not every look was a hit, however, like with "Eh, Eh," during which the singer sported a baffling metallic blouse with a sequin pillow growing out of the back in addition to a pointed cone bra. (Because no blonde pop star ever pulled that look off before.) But moments like the slinky cabaret nightclub funk of "Teeth" broke the night's predominantly pop mold and proved memorable, capped by Gaga heatedly demanding the crowd show her their teeth as she and her fiercest dancers put on their meanest faces, all shooting daggers and evil sneers. And smash hit "Poker Face," with Gaga's red outfit and her dancers' black costumes echoing the surrounding checkerboard video backgrounds, proved particularly heavy, courtesy of the track's pounding beat. Likewise, show closer and radio juggernaut "Bad Romance" was nothing short of a massive and pummeling electro banger, culminating with Gaga and her dancers striking a dramatic pose upon a raised platform as the track reached its instantly recognizable and lyrically nonsensical climax. 
Not every selection fared as well, however. A brief, piano-led portion of the night came off uneven at best, feeling like a breather between more elaborate productions than anything else. And while the stripped-down version of "Poker Face" worked well as a short sample in last year's Kid Cudi's "Make Her Say" collaboration with Kanye West and Common, in concert the drawn out performance became more trying than even novel. Surprisingly more intriguing were a series of brief video interludes with accompanying audio tracks that broke up the set's acts, ranging from clips of Gaga sporting various (and strangely Slipknot-esque) masks, to more ominous footage of a crow flapping its wings against slow and heavy electro.
Musically, backing tracks did a fair share of the night's heavy lifting, with the musicians who did perform often doing so just out of sight, yielding valuable space to stage-adorning sets and writhing, impossibly chiseled dancers. Between songs and even during, Gaga interacted with an enamored crowd, returning the love by addressing the audience as her "little monsters" and playing to the room by calling them "sexy" and "so fucking famous." As the evening progressed, the banter only became more exaggerated. While lying on the stage, she informed that, not unlike Tinkerbell, she runs the risk of expiring without applause. "Do you want me to die?!" she screeched, before launching into "So Happy I Could Die." And later, during a bondage-inspired performance of "Paparazzi" that recalled something out of Saw, in which the singer's onstage eye candy moved her by a bar connected to rings roped through her hair, Gaga dramatically declared "I have to go, the fame is killing me!" before being rushed offstage by a nearby dancer. It was a ridiculous claim that the entire night defied, as Lady Gaga's unstoppable ascent over the last year has only stepped up her game, apparent in The Monster Ball's every aspect: from the night's consistent stream of hooks to the unpredictable and extravagant theatrical productions. On a night fueled by limitless flash and glamor, the fame claimed only credit, not victims.
— Jaime de'Medici
Category: Live Reviews, Weekly