Tiger Beat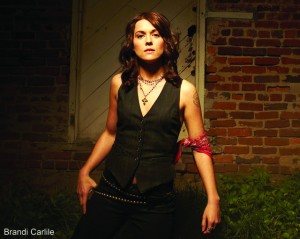 Pasting up a photo of a heartthrob on a bedroom wall is almost a rite of passage for any teenage girl. Depending on the decade, the frozen, smiling mugs of David Cassidy, Kirk Cameron, Lance Bass, and the Jonas Brothers stare back at the mooning eyes of a smitten fan as she drifts off to sleep.
Not so much for Brandi Carlile. Instead of fawning over the latest public relations-packaged hunk, the 28-year-old turned her attention to Paul Buckmaster. Surely the famed arranger/composer failed to generate much heat among Carlile's junior-high contemporaries, but for the Seattle-based musician he was the limit, especially thanks to his contributions to Elton John's catalog.
"I don't know if it was just a sign of the times in the '70s, but they included pictures in the records of the string arranger and the producer — which is so interesting. So I had like my Tumbleweed Connection picture of Paul Buckmaster up on my wall since I was a kid, because the strings are a really important part of those records," Carlile explains. "I mean, they're on every song and the arrangements are like dark and brave and nobody does that at all."
A 14-year-old Carlile actually got a chance to meet Buckmaster, shake his hand, and have that ubiquitous picture signed (something she still counts among her prized possessions). When it came time to track her third record, Give Up The Ghost (Columbia), Carlile enlisted the help of her old pin-up on the surging "Pride And Joy," which, unsurprisingly, is awash in luxurious strings.
So, when is the best juncture in a working relationship to disclose to the other party your extreme fandom? Carlile doesn't say she figured that out, but does reveal with a laugh that Buckmaster "didn't seem to care at all" about her youthful admiration.
And the Buckmaster connection doesn't stop there. Carlile also convinced Elton John via letter to add his vocals and tickle the ivories on the jumpy "Caroline." She flew out to Las Vegas with her ever-present sidekicks, "the twins" (Tim and Phil Hanseroth), where John was stationed for his run at Ceasars Palace to record.
"He was just an absolute delight. He was a total presence and he's a very inspiring person. He invited me and the twins back the next night and dedicated 'Tiny Dancer' to me," Carlile gushes. "I had 'Caroline' specifically in mind because I love the record Tumbleweed Connection. I think it's his funkiest, most Southern-sounding record and it reminded me so much of the ragtime kind of feel that 'Caroline' has. And, God, I'll be damned if he didn't play exactly what I was hoping that he'd play. The exact thing."
Rick Rubin helped produce Give Up The Ghost — a major departure from 2007's T-Bone Burnett-helmed The Story. Basically recorded live in Canada over a two-week period, The Story sessions found the band and Burnett trading licks and taking turns making dinner together 12 to 14 hours per day. "We set up the studio like a stage and we just played a show basically every day and we kept the songs and the performances that we thought were the best," Carlile recounts.
— Janine Schaults
For the full interview, grab the December issue of Illinois Entertainer, available free throughout Chicagoland.