One Fast Move Or I'm Gone: Kerouac's Big Sur
(F-Stop/Atlantic)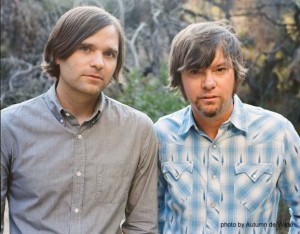 Son Volt's Jay Farrar and Death Cab For Cutie's Ben Gibbard met after being asked to record songs for the Jack Kerouac documentary that shares titles with this album. They then bonded and wrote some more.
Appearing: Monday, October 26th at Lincoln Hall in Chicago.
Kerouac's Big Sur was released in 1962, like On The Road is semi-autobiographical, and, unlike On The Road, finds him plummeting into hell (he'd be dead in seven years). In the midst of painful alcoholism, the book chronicles a writer struggling with his fame and addictions, and an inability to function like a human being for those he loves. It's dark, heavy shit and the album cleverly springs off with Gibbard singing "California Zephyr," hitting the road once again and trying to find peace out West. The duo have taken some liberties with Kerouac's text, though try to remain true. But as soon as Farrar's somber voice grips the album on "Low Life Kingdom," the whole thing starts to sink. The remaining mashes flow like tar, taking a yawning eternity to pass. Farrar and Gibbard fully understand that Big Sur is not a happy book, but never once consider including the delirium or violent pain of alcohol withdrawal — a frequent occurrence in the novel — to break up the album's awful monotony.
Further, it appears to be a collaboration in name only. Despite their bonding, Farrar and Gibbard never sound like they're sharing the same recording booth much less ideas. Farrar also has the unfortunate specter of his ex-Uncle Tupelo bandmates hooking up with Billy Bragg to record unused Woody Guthrie material on Mermaid Avenue. Those songs, expanded to a second disc, used Guthrie's words as a launching pad to explore the sounds of the activist's America. Farrar can't even get his subject out of bed.
2
— Steve Forstneger