Neil Larsen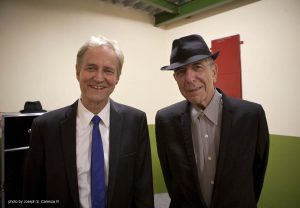 The name Neil Larsen might not immediately jump off the page to average music fans, but to those in the know, he's a legendary keyboardist with credits on some 150 prominent albums. And he just so happens to be on one of this decade's most anticipated tours, linking up with the legendary Leonard Cohen for a several-leg stint across the globe.
Neil Larsen appears with Leonard Cohen at Rosemont Theatre on October 29th.
"I certainly didn't see this coming but it's not an accident," Larsen offers. "We spent over four months organizing a band and rehearsing before playing a note in public. [Cohen] first finds musicians who interpret his songs the way he hears them, then we just start running them down. It's a little more involved than that, but if you have the right musicians, there's less that needs to be said. We talk more about moods than actual notes. Leonard is a warm, sincere guy. You can see it on stage and it makes the show a real treat for his fans that are attracted to those qualities in his recordings."
Much of that magnetism and warmth is enhanced from Larsen's own playing in Cohen's band, where he tickles the Hammond B3, along with the Wurlitzer EP200 electric piano ("That Don't Make It Junk") and the Yamaha DX-7 electric piano ("Ain't No Cure For Love"). But no matter what the tunes, the band and its vocal leader are in fine form in spite of Cohen's lengthy hiatus.
"Having not toured for 15 years, a lot of his believers thought they would never see him perform live," Larsen admits. "He's come back in strong voice, with a three-hour show that includes music from throughout his career, and some new material that no one has heard yet. Leonard's material gets covered by younger artists [Jeff Buckley, Don Henley] and there's probably a lot of their fans who are curious to see the real guy interpret his material in his own way. He has a hell of a story to tell and will undoubtedly open up some young minds."
Outside of his stage conquests, Larsen's been a go-to guy in the studio, starting with television jingles in New York, followed by countless album sessions. His first two collaborations were with singer/songwriter Don McLean and classic rockers Foghat, though he found much more success after heading west.
"I eventually moved to Los Angeles where there seemed to be more work and began working with producers: Tommy Lipuma, Russ Titleman, Herb Alpert, and others," he recalls. "Again [there were], many different types of music and I enjoyed the challenge. At one point, I went from working with Rick Springfield right to Miles Davis."
As his performance stock throughout such sessions grew, so did the prominence of the performers who called upon his recording and touring services. The piano man's résumé also includes George Harrison, Whitney Houston, B.B. King, Kenny Loggins, Rickie Lee Jones, Gregg Allman, and Jimmy Cliff. "I like the several records I've done with B.B. King, including his last [One Kind Favor], and I'm proud of the ones I did with Rickie Lee Jones," he reflects. "I drive home after the session with more than a paycheck. I have a feeling of making a musical contribution to what could be a great project that will always be there to listen to. This is a reward for a session musician instead of the applause of a live audience. The drive home, thinking 'I did it!,' knowing people will eventually hear it."
While King and Jones may have been his personal favorites, one can't help but pick Larsen's brain about the late great Beatle or get his take on Houston's comeback attempt. "I'd love to see Whitney do it again – I'm a fan," he asserts, before reflecting upon Harrison. "It's very sad not to have George around. The world can't afford to lose such a big representative of peace. He was a good guy and very sincere about his beliefs."
Besides his work for others, Larsen's also an accomplished solo artist who even has a Grammy nomination under his own name. While this particular season is tied up with the Cohen road trip, individual albums are never far from the switch hitter's mind. "I'm not around to do much recording because of our touring, but I've done a couple of album projects this year, and worked on a film soundtrack with Elvis Costello," he adds. "The last solo album I did, Orbit, was a direct-to-disc record produced by my old buddy, Stewart Levine. It's a good format for me and hopefully I can do another project like this soon."
— Andy Argyrakis
Category: Columns, Monthly, Studiophile