A Change Of Skin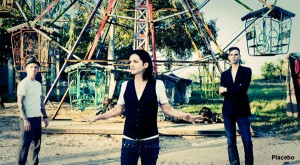 Even with the boundary-less World Wide Web, most of us music lovers go about our listening business unaware there are beloved hit-makers across the oceans who are blips on the radar or completely unknown to us. There are any number of possible reasons for this, really, but with the release of their sixth studio recording, Battle For The Sun (Vagrant), Placebo hope their appeal jumps the vast waters.
"We've been to the States at least twice per record," assures bassist Stefan Olsdal, while waiting to play two 80,000-body festivals in Germany last month. "We actually put in quite a lot more [time there] than most European bands. We're still kind of at cult status in the States."
Never mind that Robert Christgau, in one of his fence-surfing, optic nerve-twisting diatribes (see "Lost In The Lonely Crowd," Village Voice, April 18th, 2006), predicted Placebo would never reach beyond this cult status; it wouldn't be a longshot to be against him. Along with evident radio appeal of tracks on the new record, Placebo had the chance to lay a good foundation in 2007 while playing the main stage of Linkin Park's Projekt Revolution tour along with My Chemical Romance, Taking Back Sunday, H.I.M., and Julien-K. It was a great opportunity for the band to be exposed to a younger crowd — a different crowd, though clearly they were the veterans of the tour.
The first time I saw Placebo, 13 years ago, I couldn't tell if the person singing was a man or woman. Up in the nosebleed section at the Riviera, I was too far away to see. Though I had gone to see the headliner, my interest was piqued by this opening band. It was the mid-'90s, which (in the U.S.) was rife with grunge, melodic alt-rock, and the beginnings of nu-metal, and theirs was a curious dichotomy: grunge-y guitars, glam-y ambiguous vocals. This European band sharing more in common with Nirvana than New Order were a red-headed stepchild. I loved it. I sought out their name and was from then on a fan.
A year later, David Bowie personally invited the trio to play his 50th-birthday bash at Madison Square Garden. Sometime later he cameoed at one of their shows in New York, and then re-recorded the title track from their album Without You I'm Nothing (which was released as a single in '99). The Cure's Robert Smith joined them onstage at Wembley Arena in 2004, and R.E.M.'s Michael Stipe sang on the blistering "Broken Promise" from the album Meds.
Maybe it was just that Yanks didn't "get" Placebo; over the course of five records and lots of singles, they tip-toed from hip-tied flannel guitar walls to Euro-synth to N.Y. glam-punk and back again, all the while blurring the lines of sexuality — their own as well as their music's. But if the band were cultivating a signature, what they did best was seethe with sophistication, with the climax of that brilliantly played out on 2006's Meds.
If the last record was the pinnacle of an era for Placebo, then Battle For The Sun is the dénouement and new beginning rolled into one.
"I don't think Placebo could have continued to exist the way it was going around Meds, in terms of the lineup and our mental health," Olsdal reveals. "We had to make a few tough decisions, but it was for us to lead a more healthy, balanced existence." One of those tough decisions was parting ways with longtime drummer Steve Hewitt, who was replaced by 22-year-old California native Steve Forrest. "I think the new lineup, so far, has been a pleasure to play with," says Olsdal. "It's a band that's communicating and going out together and having fun, and I think that's vital for a band to be able to grow and to evolve."
With fresh blood, a fresh mindset, and a fresh approach, Placebo inadvertently recorded an album of firsts.
"All these things [new drummer] Steve's experiencing for the first time has been fun to see, and it's kind of rubbed off on us," says Olsdal. "It's his first time recording a full-length album, first time going to all these places around Europe, first time being on TV, and have his own fansite. So he's walking around with a permanent smile on his face. But we're keeping him in check. We realize we've thrown him into deep waters, but he's taken to it really well."
— Penelope Biver
For the rest of the story, grab the July issue of Illinois Entertainer, available free throughout Chicagoland.