First Midwest Bank Amphitheatre, Tinley Park
Saturday, July 11, 2009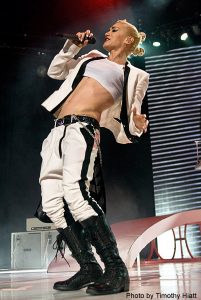 There are really only two reasons bands reunite and hit the road to tour together again: they either have a new record to promote, or they simply need the money. In the case of No Doubt, they have no new album to promote (no new material in over five years, in fact), so you figure it out. Of course they never really "broke up," they simply allowed Gwen Stefani "her space" to go pursue her solo career, which ended up rivaling No Doubt's success. But the band says they miss playing together and just wanted to tour again for fun and for the fans (so altruistic of them).
For full-color photo galleries of Saturday's show, visit www.illinoisentertainerphoto.com!
So they invaded First Midwest Bank Amphitheatre on Saturday night to play through a 90-minute set of all their hits. The band first entered the stage as giant silhouettes behind a huge white curtain, which was actually a very cool (albeit simple) effect. Then they launched into easy crowd-pleasers "Spiderwebs" and "Hella Good" and proceeded to spend most of the night playing tracks from their most successful albums, Tragic Kingdom and Rock Steady. They tried to intersperse songs from Return To Saturn and their self-titled debut, but those seemed to quickly lose the crowd's interest. "Just A Girl" was the predictable giant closer, and actually made the encore of "Rock Steady," a cover of "Stand And Deliver," and "Sunday Morning" seem anticlimactic.
The entire show was definitely geared toward celebrating No Doubt's career and nothing else, so anyone expecting to hear a few of Stefani's solo hits left sorely disappointed. The giant HD screen that backed the band was used primarily to showcase their career, alternating between showing the actual videos of the songs being performed, and other footage of the band. It actually felt like a bit of overkill, watching the foursome perform live on stage, and seeing them constantly on the giant screen, on top of watching the live close-up camerawork of the band (mostly Stefani) on the side-screens.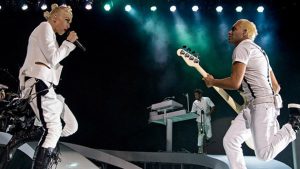 The show was void of any surprises or crazy antics. Stefani only had two costume changes, and of course made sure to show off her abs. The stage setup had a neo-future feel, with everything and everyone in all-white, except drummer Adrian Young, who of course chose to wear nothing but long argyle socks, black lipstick, and bikini underwear. (Note: Young also had one "costume change," simply to add a pink tutu to his ensemble.)
No matter how hard they try, No Doubt can't help but revolve around their iconic lead singer. Stefani was the focal point of the entire night, and even when she briefly left the stage while the band rocked an instrumental jam, the crowd seemed lost without her to look at. She's the only one who interacted with them, and she actually went the extra mile to bring a fan onstage (a lady who tattooed the band logo on her arm), to acknowledge signs, and to thank the crowd more times than usual.
Paramore were the perfect opener, since they're really a more punk-rock version of No Doubt and will most likely be headlining themselves soon. Lead singer Hayley Williams doesn't yet quite have the charisma of Stefani, but she has at least as much energy and vocal chops. Williams worked the crowd like a pro at her young age, as she ran back and forth across the stage belting out her songs, with her bright red hair flopping to the beat. Paramore of course played all their hits, but also took the opportunity to debut some new tracks off the forthcoming Brand New Eyes.
— Carter Moss
Category: Live Reviews, Weekly