Depeche Mode
Across The Universe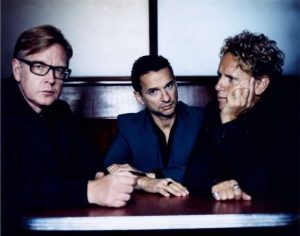 Very few bands have endured 30 years, let alone remained relevant throughout the majority of their tenures together, but Depeche Mode is unquestionably one such elite anomaly. Sure, the electronic innovator has passed under the occasional dark cloud since debuting in the early 1980s (apart from the expected dips in chart action, frontman Dave Gahan danced with death in the late '90s), but the band has repeatedly bounced back. This spring's Sounds Of The Universe (Mute/Capitol), which could quite possibly be the perfect equilibrium between the band's retro dance roots and current club compositions.
Appearing: Friday, August 7th at Lollapalooza in Chicago.
"I'm not sure it's the next Violator [like many critics have suggested], but perhaps Black Celebration," offers keyboardist Andy "Fletch" Fletcher, phoning from Spain on a day off. "But yeah, it's a bit of a throwback and on this album we're using a lot less guitars, so in some ways, it's a bit more like our electronic albums . . . I'd call the tone 'retro-futuristic.'"
Perhaps that is the ideal description of the set, which successfully straddles a line between recalling yesterday and pushing into next week. Much of the motivation stemmed from the esprit de corps among Fletcher, Gahan, and guitarist/keyboardist Martin Gore following 2005's comeback album of sorts Playing The Angel, which spawned the smash single "Precious" and led to the cross-continental Touring The Angel trek.
"The mood in the group after last tour was very good, though the mood in Depeche Mode is generally very good, so it was sort of a natural thing really," continues Fletcher. "We took some time off, and during that time, Martin was writing very prolifically and Dave was writing as well, so we got to a stage where there were quite a number of songs and we thought we should go in the studio."
Those closely following the writing credits in Depeche Mode's liner notes have noticed Sounds Of The Universe finds Gore gradually sharing the songwriting reins with Gahan, who has clearly grown as a tunesmith since his lukewarm 2003 solo outing, Paper Monsters, and even the last Depeche disc. Though the shift in power could've caused friction considering Gore's role has been set since Vince Clarke left for Yaz (and later Erasure) in 1981, Fletcher feels it provided lively competition for both camps.
"I think it's healthy to do your own thing every now and then as you can learn from it, but we haven't gone crazy with solo records like some bands," he reasons. "Every now and then we'll do it, but now I think Dave's writing gives Martin a kick up the ass. He's got to compete with Dave and Dave is a younger songwriter in comparison to Martin, but his songs are getting better and better, so again, it's all part of the healthy atmosphere within Depeche Mode. It's made things a lot better and I think Dave felt a bit secluded before. He's a frontman who [for a long time] didn't write lyrics, which is pretty rare. I can think of Roger Daltrey and a couple other people that happens with, but now that he's [contributing some lyrics] I think he feels a lot more included."
Though there's little negative tension within Depeche Mode these days, it's impossible to look at history and not recall personal problems that nearly ended not just the band but Gahan's life. From the outside, it appeared DM were sailing right along after 1990's Violator ("Personal Jesus," "Policy Of Truth," "World In My Eyes," "Enjoy The Silence") and 1993's Songs Of Faith And Devotion ("I Feel You," "Walking In My Shoes," "Condemnation"), but the attention and relentless touring steadily overwhelmed him. Come the sessions for 1997's Ultra, Gahan was a frequent no-show in the studio, and when he did attend, proved to be so inebriated that his productivity was extremely limited.
"There was only one time and that's when Dave was in a really bad way," Fletcher admits when asked about how close the band came to quitting. "He went to New York for six weeks to do vocals and we ended up with hardly any vocals done. We were all wondering if we're going to actually complete the album and if the band would be over, but that wasn't to be. Dave had his near-fatal overdose, went into rehab, came out of rehab, did all the vocals, and he hasn't looked back."
Since then, all parties have engaged in a much healthier lifestyle. "We work out and we don't indulge ourselves as much anymore," promises the keyboardist. "We just sort of put our heads down and try to put everything into the performance. Dave doesn't drink, of course, and Martin now doesn't drink and hasn't for a few years. It's quite a sober tour and we just knuckle down, really. The consistency of concerts at the moment really is at an all-time high, so it's good."
However, fans following the group's tour schedule earlier this summer would have reason to question Depeche Mode's reliability once again. A freak health scare for Gahan, however, came not from relapse but a genuine malady. Just as Tour Of The Universe began in May, Gahan faced a severe spell of gastroenteritis, resulting in having a malignant tumor removed from his bladder.
"When we came back to do our first show, he sort of said to me he'd probably only be able to give it 75 percent, but then the first show he was giving 125 percent, so he's really been performing absolutely amazingly," follows Fletcher. "He realizes how lucky he was and that they found this through an accident really, so they were able to treat it very early on. It's an amazing prognosis for pancreatic cancer if you get it early enough and, I think he's lucky."
With the tour resurrected, the trio has pondered more administrative matters like shaping the setlist, which is an increasingly difficult task. Though early reviews promise the hits (including goth staples like "Master And Servant" and "Never Let Me Down Again"), this isn't a nostalgia trip by any means, with due attention being placed on the new project. The group's latest ominous outpouring, "Wrong," is featured prominently, along with the electric/electronic blend of "Hole To Feed" and the pulsating power ballad "Peace."
"Though I told you the album itself was very easy for us to make, the actual setlist is always really hard," confesses Fletcher. "With so many songs to choose from and so many classics and so many peoples' favorites, it becomes very difficult. Plus we've got different generations of fans now, from fans who have just gotten into us because of recent albums, to those in the middle, to those who've been with us since the beginning. Obviously it will be more interesting for us to bring out some of the old songs, but in theory, we should play for four hours, which we sure are unable to do. I could do that being a keyboard player, but I'm sure Dave running around and belting out couldn't do that."
Nonetheless, the band can promise a teeming, two-hour set at Lollapalooza, complete with all the towering production and spectacle that has become the threesome's forte. For a dance floor-derived act, Depeche Mode's status in the U.S. is that much more improbable.
"We've been in Europe playing big stadiums every night and playing in Chicago won't be too difficult for us," he jests. "Over the years we've spent a lot of time in Chicago — some very lively nights — but as I say we're a bit different now. It will be nice to get out and have a walk around the lake, plus we've got lots of friends there and it's always great to hook up. We're looking forward to playing [Lollapalooza] and seeing the bill makes us very excited. It's a toss up between [playing our own show] and a festival because the opportunity at a festival means you're getting across to more people."
Considering countless acts on the bill have been influenced by the band (co-headliners The Killers and even Jane's Addiction), not to mention just about every other alternative dance act today, Depeche Mode could very well be considered the scene's elder statesman. It's somewhat of an ironic position to be in after getting flack in the early days for spearheading the electronic boom, which stood in stark contrast to the guitar-charged landscape of the time.
"There are lots of reasons why we might influence people, but we feel vindicated to a certain extent because when we were an electronic band in the mid-1980s amidst a rock atmosphere, a lot of journalists [gave us a hard time] and it was a bit of a battle. Obviously to be here now and still be really popular after almost 30 years does make us feel vindicated, because the way we made music and electronic music in general is now accepted."
Though the group rode the electronic wave to the top, the scene inevitably fizzled by the end of the '90s, leading to uncertainty regarding Ultra and 2001's overlooked Exciter. But as the second half of this decade rolled around, so did a full-fledged genre resurgence that once again finds Depeche Mode in the driver's seat.
— Andy Argyrakis
For more than just a teaser, grab the August issue of Illinois Entertainer, available free throughout Chicagoland.