Reggie's Music Joint, Chicago
Thursday, July 9, 2009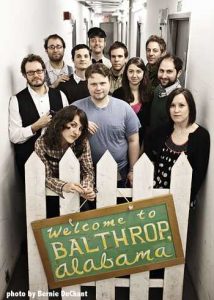 When this ragtag batch of Alabaman New Yorkers opened for Dawn Landes at Hideout last year, it was hard not to daydream a sequel to Waiting For Guffman, where Corky grows disillusioned and moves to Brooklyn.
Going one further, for this year's Cowboy Songs EP (complemented separately by Subway Songs), Balthrop Alabama have more-or-less envisioned Corky's return to Blaine. On "Old Cowboy Queer," the sun is setting on the only gay in town, a man who understands the only warm embrace he'll know is from men named Jim Beam and Johnny Walker. Things aren't always this bleak on Cowboy and Subway — they can't possibly. (You try and pull off a farmhouse take on The Decemberists without a smile on your face.) There's touches of The Hidden Cameras and Last Tango In Paris in "The Butter Song," though thankfully they avoid The Decemberists' $10 words in order to keep "Prom Story" charming and small town. You might never be able to go home again, but when you travel with this lively crew, who'd want to?
Brother George headlines; The Lost Cartographers and Ne'er Do Evers open.
— Steve Forstneger
Click here to download "Love To Love You."
Category: Stage Buzz, Weekly