TURNING 20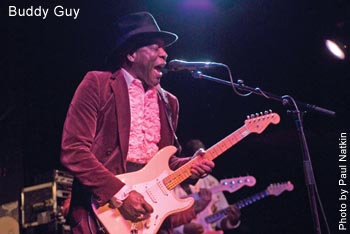 On June 9th, 1989, Buddy Guy and Junior Wells performed a memorable set of acoustic blues at the Front Porch stage during the Chicago Blues Festival. This writer was there, MCing that particular stage. Once the show was over, I was directed to announce to the lingering crowd that they should make it down to Buddy's Guy's Legends, Guy's new club at 754 S. Wabash. Now 20 years later, I urge you to make it down to Legends during Blues Fest weekend, June 12th to 14th (the fun at Legends actually runs the 10th through the official 20th-anniversary party on the 16th) to celebrate the man, his music, and the success of what has become a Chicago landmark.
Back then, fans of the Checkerboard Lounge, Guy's famous club on 43rd and King Drive, were concerned that some of the flavor would be lost in the move from the South Side to the South Loop. But that concern proved to be unfounded. Although the new location could never duplicate the corner-bar atmosphere of the Checkerboard, it still had that welcoming, unpretentious vibe, which made the Checkerboard a hangout for neighborhood regulars, tourists, and students from nearby University Of Chicago. Though the audience for blues has changed, with tourists and suburbanites embracing the blues aura (and at Legends, blues celebrity), the down-home quality of the club remains the same.
Acts performing during Blues Fest week at Legends include Chicago stalwarts Lurrie Bell, Big James & The Chicago Playboys (whose new CD arrives June 2nd), Jimmy Johnson, John Primer, Magic Slim, Carl Weathersby, and Lil' Ed And The Blues Imperials. Out of towners include hot, hot guitarists Larry McCray and Ana Popovic. You might want to stop by Legends nightly to rev your engines after the more traditional fare offered at the festival.
And speaking of the Fest, just like it was 20 years ago, the format has returned to a three-day event as opposed to the four days of fun over the past few years. The theme is taken from the excellent Maxwell St. documentary that was re-released on Shanachie Entertainment in 2008 entitled And This Is Free. Headliners include deep blue guitarist Eddy C. Campbell, who will be celebrating his 70th birthday, on Friday night, soulful diva Bettye LaVette on Saturday, and James Brown-inspired funk-and-soul band Sharon Jones & The Dap Kings on Sunday.
The festival this year is actually a nice mix of traditional and contemporary blues and soul sounds with many surprises. Harmonica great Charlie Musselwhite headlines the Front Porch stage on Friday, while guitarist John Primer appears at the Mississippi Juke Joint stage on Saturday. Maxwell Street is revisited on Friday featuring performances by Dancin' Perkins, Iceman Robinson, Smilin' Bobby, Bobby Too Tough, and Frank "Lil Sonny" Scott Jr. For a complete Blues Fest lineup, visit www.cityofchicago.org.
MAMA SAYS: Etta James & The Roots Band played to an adoring crowd at House Of Blues on April 30th. A slimmed-down James was escorted to the stage looking pretty in a mid-length blond wig, black pants, a gold sequined top, and black floral jacket. With her small face and husky speaking voice, she reminded me of a kewpie doll with the voice of Marlene Dietrich.
Despite that fact that she sat throughout most of the show, James rocked and rolled through some of her most famous tunes, such as "Tell Mama," "I'd Rather Go Blind," "Damn Your Eyes," and a teasingly salacious version of her old friend Johnny "Guitar" Watson's "I Want To Ta Ta You, Baby." A singer who has always expanded her musical parameters, James included the jazzy ballad "Love Is Forever" (complete with scatting vocals), Janis Joplin's rockin' "Piece Of My Heart," and, for her encore, Jimmy Reed's bluesy "Baby What You Want Me To Do."
No doubt many of the young people who were in attendance were there because of the publicity generated by the Cadillac Records movie, and the controversy she generated over Beyoncé singing her signature "At Last" to the Obamas at the inauguration. When she began her brief introduction with "This is one of my favorite songs," the audience knew where she was going, and cheered wildly. "Someone else sang this song," she continued, "but that's all I'm gonna say about that." James often uses her hands when she is talking to the crowd, often making little symbols of affection with her fingers. Her gesture when she introduced "At Last" was anything but affectionate. But that's O.K. James is outspoken and outrageous, and we all know that.
IN MEMORIAM: Singer, MC, and comedian Manuel Arrington passed away on April 16th, one week before his 64th birthday. Manuel was a well-known figure on the Chicago scene, having hosted the Chicago Blues Festival in its early years and many shows around town. Manuel was my colleague for a number of years on the Chicago Blues Festival Advisory Committee. My lasting memory involves a night at the Majestic Lounge on the West Side in the late '80s. Mine was the only white face in the audience, and Manuel acknowledged that fact with gentle humor. I recently ran into him at the Monday jam session at Legends in March, and we reminisced about our years on the committee. May he rest in peace.
NEXT: The following new releases have arrived at "Sweet Home" and will get their due in July: Cyril Neville's Brand New Blues (MC), Zora Young's Sunnyland (Airway), Big James & The Chicago Playboys' Right Here Right Now (Blind Pig), Otis Taylor's Pentatonic Wars And Love Songs (Telarc), and Buckwheat Zydeco's Lay Your Burden Down (Alligator). See you then.
— Beverly Zeldin-Palmer
Category: Columns, Monthly, Sweet Home