Novel Sounds Of The Nouveau South
(Bloodshot)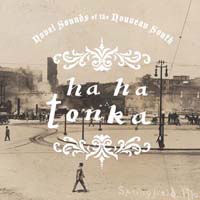 Catfish Haven and Ha Ha Tonka — both horribly named and with local ties — are destroying the notion that Missouri — and its horribly named locales from which the bands take their names — is full of Bud-swilling, Nickelback-blasting, NASCAR mooks.
Appearing: Monday, June 15th at Schubas in Chicago.
While Catfish filled up on Otis Redding, Tonka draft weary, Southern gospel into their rustic indie rock, finally satisfying those of us who think the Kings Of Leon charade has gone on long enough. Novel Sounds Of The New South recalls Richard Buckner's The Hill in structure (based on an early 19th-century novel), but busts through literary pretension via frequent, windmilling guitar outbursts like the ferocious "The Horse In Motion." But it's "Hold My Feet To The Fire" and a remorseful "What Shepherds Of These Hills" that imbue the album with a soulful glow.
8
— Steve Forstneger