United Center, Chicago
Wednesday, June 17, 2009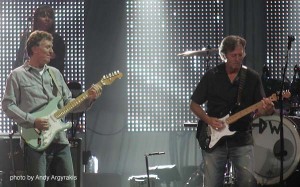 Considering the nucleus of Blind Faith hadn't toured together since 1969, it was particularly monumental when Eric Clapton and Steve Winwood performed a short set together at Bridgeview's Toyota Park in 2007 as part of the Crossroads Guitar Festival. Given that evening's rave reviews and the pair's unfathomable chemistry following four decades apart, it was only fitting to launch a full tour, anchored in the live CD/DVD set Live From Madison Square Garden.
While each co-headliner's star power likely packed the United Center as opposed to the somewhat obscure classic-rock album from which they first collaborated, much of that self-titled project from the psychedelic era was on display. Rather than any of these guitar slinger's mega solo hits, the joint evening kicked off with Blind Faith's bluesy jam "Had To Cry Today," steeped in Winwood's soulful pipes and Clapton's even fiercer licks.
Across the next two-and-a-half hours, the duo alternated lead vocals and six-string solos. They often relied on Winwood's wizardry on the organ and grand piano, recreating the short-lived magic from the late 1960s and also dusting off solo chestnuts that don't often make it to each's regular shows. Though that meant not a single shed of Winwood's '80s hit parade (not even "Higher Love") and nothing from Clapton's more recent stable of smashes (like the unmissed "Change The World"), it did fulfill the fantasy of longtime listeners with an affinity for obscure cuts and off-the-cuff call-outs.
But that wasn't to say all the songs were unfamiliar, including Clapton's reading of J.J. Cale's "After Midnight," swapping verses with Winwood during the Blind Faith days' "Presence Of The Lord," and dipping back to Derek & The Dominos via an acoustic (though disappointingly subdued) "Layla." Winwood often saluted the Traffic period, dusting off the instrumental "Glad" with hair-raising organ howls, presenting "Pearly Queen" with renewed fervor, and providing an unexpectedly jazzy trip through Ray Charles' "Georgia On My Mind."
Regardless of whose catalog a song came from, unity was the sole vibe with neither legend sporting an ego or insisting on extra attention. If anything, both stared in mutual admiration, which gave Clapton's normally stodgy stage presence an extra jolt of energy and the always-jovial Winwood an even wider smile. That spirit of camaraderie was especially apparent on the standard "How Long Blues," which took an unplugged approach that was so intimate, it made the basketball arena seem like Buddy Guy's Legends.
Like their appearance at Crossroads, the last half hour was truly when the pair unpacked the treasure trove, resurrecting Blind Faith's smoldering "Can't Find My Way Home," the incendiary Woodwind original "Split Decision," and even Jimi Hendrix Experience's growling "Voodoo Chile" (on which Winwood was an original session player). Add an encore with surprise (though geographically obligatory) guest Buddy Guy on "Sweet Home Chicago" and "Downing On Dry Land," and it was a time portal to each artist's golden eras, enhanced by the finely chiseled chops that have only improved in their 40 years apart.
— Andy Argyrakis
Category: Live Reviews, Weekly