Empty Bottle, Chicago
Sunday, June 7, 2009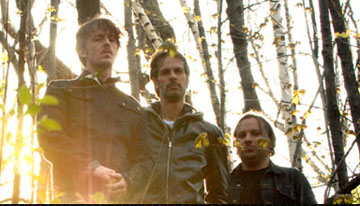 Broken Social Scene's Andrew Whiteman's surname creates no expectations and thereby gives him total freedom to work in ethnic textures. Despite the damage he could do, however, the Whiteman wisely sticks to what he knows on the new Eats Darkness (Arts & Crafts).
Though highly skilled, his tastes don't mean the guitarist could step right into Tinariwen should one of the North African group's members take ill, but switching from Latin tones on past albums to African ones mostly works. "Easy Speaks" runs a lively, West African guitar lick with an insistently percussive rhythm pattern but doesn't pretend with its Ted Leo-esque vocal. "Perfect Fit" is less successful, however, because it's the one instance where Whiteman forgets his name, nationality, and race, and dives headlong into dub reggae. The rest of Eats Darkness slips by as serviceable indie rock, the kind Apostle have been rooted to since the debut. On the one hand there are non-chalant foottappers a la the title track on 2007's National Anthem Of Nowhere ("Soul Unwind," "Xerses") and then there's his slighter fare and an ill-fitting fascination with sound collages. It's the Whiteman's burden.
Portugal The Man headline; Yourself And The Air open. Apostle Of Hustle also perform Saturday, June 6th at Metronome Celebration.
— Steve Forstneger
Category: Stage Buzz, Weekly