Siderunners
Keep Your Motor Running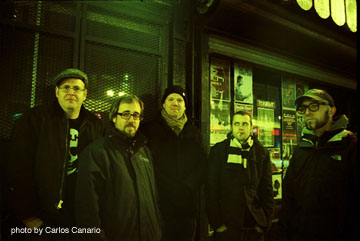 Joseph DeFily (Sappy, as he's also known), the guitarist/lead vocalist of Siderunners, planned to lie low after returning to Chicago in November. He avoided going much of anywhere except work and Siderunners bassist Zack Schnieder's house, his current residence. Yet here he is, sitting in a booth in the Double Door's basement Dirt Room bar next to bandmate/fellow guitarist Nate Van Allen, fidgeting with a cigarette and lighter, and being interviewed by Illinois Entertainer in preparation for the band's "comeback show," a direct support slot for The Tossers' latest release party.
Appearing: Saturday, February 7th at Beat Kitchen in Chicago.
So much for lying low.
"I don't think I was in town more than three days, and we got offered this gig," Sappy says, seemingly still surprised.
"Yeah, the Tossers guys heard he was in town and were like, 'Oh, you want to play this show?'" Van Allen says.
"That was a Monday," Sappy says, "and I got in that Friday [before], and I was just like, 'Sure?'"
Rewind to April 19th, 2007, when the country rock group (brilliantly described by somebody as "Motorhead meets Hank Williams") played its final show . . . it thought . . . maybe. By the band members' own admissions, it wasn't even clear to them (at the time Van Allen, Sappy, drummer Andy Abrisz, and a rotating cast of bassists) whether they would share the stage again.
"Did we care at the time?" Van Allen asks with a laugh when questioned about the intentions.
"Half the time it was just . . . " Sappy, obviously ready to go outside and light that smoke, pauses to think about his answer. "There was always the possibility of it. We just weren't thinking about it or saying anything about it, honestly. Everybody had to do their own thing, whether it was working on music, or other stuff. Me, myself, I needed to decompress."
Decompression for the wiry, tattooed, trucker hat-wearing (Sappy was wearing trucker hats long before American Eagle started selling them) frontman meant fleeing Chicago, where he'd spent all his life, for Nantucket, Massachusetts, the island 30 miles south of Cape Cod where his girlfriend grew up.
In the time being, Van Allen indulged some solo pursuits (including an opening slot for Tossers frontman T. Duggins) with the help of former Siderunners/current Panther Style bassist Jeanne McClure and Tossers drummer Bones. If you're wondering what the hell is with all the Tossers tie-ins, you haven't followed the rowdy South Side Irish punk group's career closely enough. Van Allen, friends with Duggins since junior high, played guitar and piano on The Tossers' seminal Long Dim Road (2000 – voted one of IE's 25 Essential Albums Of The Last 10 Years). Though his tenure was short, the split was amicable (obviously: The two bands have toured together, and Van Allen dropped by the studio for both Agony and Spring Evening for some drunken gang vocals), and within a few weeks of his departure he was introduced to Sappy and drummer Pat Buckley (of '80s Chicago thrashers Devastation) via original Siderunners bassist (and member of ultra-heavy Chicago trio American Heritage) Adam Norden.
So how does the former member of a traditional Irish band and three metalheads (Norden and Sappy also played together in Pruno, a punk-ish project that featured former Waco Brothers drummer Joe Camarillo, but Sappy points to heavy metal as the one genre of music everyone has a common love for – Siderunners covered "Sweet Leaf" on its 2006 album Sabbath Country Sabbath, after all) end up playing country music?
"We all liked it," Van Allen says matter-of-factly.
Sappy elaborates: "When we first started playing, it was an excuse to get together on a Tuesday night, drink a lot of beer, and playin' a bunch of country covers that we all loved for the hell of it.
"Because none of us were playing any of that kind of stuff," he continues. "Of course, whatever everybody called country was kind of making us sick."
"We never intended any of this," Van Allen breaks in. "We never intended to be an 'insurgent' country band. We never intended to be a country band."
But a country band it turned out, and a pretty goddamned good one, too, which made the group's sudden end/hiatus/whatever in '07, after only five years and two records (2005's excellent Ain't Inventin' The Wheel – originally released as a slightly different version in 2002 – and the following year's raw, acoustic, recorded-live-in-a-friend's-house Sabbath Country Sabbath) such a shame.
Yet, here the band is, roughly two hours from its return show (nobody's comparing this to Led Zeppelin's reunion by any means, but if the raucous crowd during the group's set and interrupting fans during this interview are evidence, Chicago missed Siderunners) mulling a CD-release show scheduled this month.
That's right, new Sidrunners material! Well, new Sidrunners material for people who haven't heard Siderunners before. Buy The Farm includes "My Pistol, My Love," "SXSW," and "Hate To See You Go," all longtime setlist staples as well as "Somethin's Burnin'" (surely the only country song ever to quote "Ace Of Spades"), which was on Sabbath Country Sabbath. "Ohiya" is also a song anyone who has seen the band onstage is familiar with, and "What's The Matter Now," though rarer, has been played live, too.
As Van Allen summarizes, Buy The Farm is the group's new old EP. "The problem was we didn't have a second half of the record," he admits. "We had all that stuff, we'd been doing it live, it was all done, and that's why we did an EP. It was like, 'Get this shit done and get it out of the way, see what happens after that.'"
Well, what does happen after that? Hold your breath Siderunners fans, because neither Sappy nor Van Allen is ready to say for sure ("Have we discussed that yet?" Van Allen asks Sappy with a laugh), but when pressed, it sounds at least 60/40 in favor of being a fully operational band (now with Buckley back on the drum throne and Abrisz playing washboard and singing backup) again.
"We're just kinda taking it day by day," Sappy insists.
"The plan is that we're going to get through this show, we're going to get through the record-release show, and we're going to work on doing some new songs because it's been too long," Van Allen says.
"Hunker down in the bunker . . . "
"And enjoy ourselves," Van Allen finishes for Sappy.
New songs? Enjoying themselves? Maybe fans can exhale. God knows Sappy's ready.
— Trevor Fisher
For the rest of the story, grab the February issue of Illinois Entertainer, available free throughout Chicagoland.