Satyricon
House Of Blues, Chicago
Sunday, January 25, 2009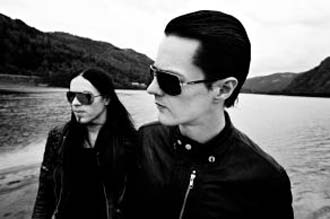 For a black metal band, sparking controversy in the scene by "selling out" or not being "kvult enough" is like starting a fire by throwing a lit match on a bale of hay: It ain't hard to do. Norway's Satyricon has taken its share of criticism for such silliness but apparently doesn't give a shit, because The Age Of Nero (Koch) only expands what the group started flirting with back on 2002's Volcano.
That album, by the way, was released on a major label – Capitol – and coincidentally or not, is where drummer Frost and frontman/guitarist/everything-but-drummer Satyr really began developing a style of music that maintained its black metal roots while mixing in traditional rock 'n' roll elements. Songs like "The Wolfpack" and "Commando" won't ever pop up on your rock radio station after a Bruce Springsteen tune, but The Age Of Nero certainly sounds like the culmination of Satyr's vision. Though the band detunes the guitars to the depths of hell this time around, it somehow manages to keep the riffs crisp and groove-laden, doing for black metal – where only being being the fastest, loudest, or weirdest counts – what Pantera (whose former singer, Phil Anselmo, is a self-professed Satyricon fan) did for thrash in the early '90s: kicking it right in the ass. Some might say Nachtmystium already did that last year with Black Meddle , but Black Judd himself will tell you that record is more a departure from the genre than an attempt to redefine it.
The production on Nero is bone dry, but also – dare we say? – slick . . . at least for black metal standards. Shitty production is as vital as photocopied promo pictures for these bands, so Satyricon should be applauded for continuing to buck the system by making its records sound good, as ridiculous as that seems. Satyr produced The Age Of Nero with engineer Joe Baresi (Tool, Queens Of The Stone Age) in Los Angeles, and though L.A. is not black metal, Saytr did keep shit real by writing the material in a remote cabin perched in the Norwegian mountains. So there.
Satyricon and Septicflesh open for Cradle Of Filth.
Click here to watch the music video for Satyricon's "Black Crow On A Tombstone."
— Trevor Fisher
Category: Stage Buzz, Weekly