Mercury Rev
Martyrs', Chicago
Thursday, December 11, 2008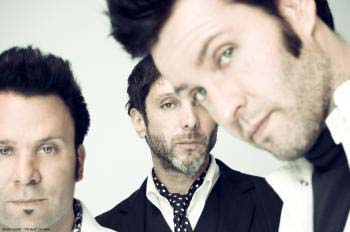 Jonathan Donahue and Dave Fridmann's ties to The Flaming Lips have always influenced the way people perceive Mercury Rev more than is fair. Indifferent to the desire to be pop stars (though they were, briefly and unexpectedly, in the U.K.), the band's albums were widescreen before the Lips reinvented themselves with The Soft Bulletin, which makes Snowflake Midnight's leap into the epic feel so comfortable and perhaps overdue.
In a bit of do what I say, not what I do, the nine tracks can be pitched as a way to look at what might have been, had the Lips pursued the eerie electronics behind Yoshimi Battles The Pink Robots. Donahue's childlike voice hasn't fully dropped, but nearly sounds sinister chanting "Whatever happens now they say is whatever we choose" on "Dream Of A Young Girl As A Flower." The Technicolor reveries of Deserter's Songs and All Is Dream seem a distant place, smashed to pieces by "A Squirrel And I," which closes the album with echoing chimes, like slowly losing your mind in a room filled with malfunctioning clocks.
The Lips should be so lucky.
The Duke Spirit open.
— Steve Forstneger
Category: Stage Buzz, Weekly