Eddie Vedder
Auditorium Theatre, Chicago
Thursday, August 21, 2008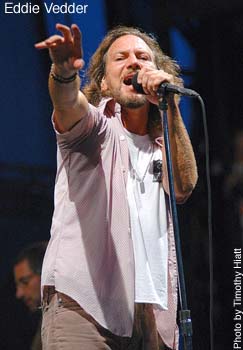 It could just as easily have taken place next to a campfire, the mood was so relaxed. But there was no denying the anything-but-subdued ovation that greeted Pearl Jam's Eddie Vedder was coming from an enraptured, ticket-buying audience who snatched up some 5,000 tickets in record time. The occasion was the first of two sold-out solo performances at Louis Sullivan's Auditorium Theatre.
The Evanston native was in the final dates of an East Coast tour that, by evening's end, seemed less about a trip through the hits of the multi-platinum band he fronts and more about a homecoming/glimpse into his record collection.
During a loose and casual, two-hour performance, Vedder delivered impassioned versions of plaintive songs like "Guaranteed," "Society," and "Far Behind," which were written exclusively for the Into The Wild soundtrack. He also tore through covers from seemingly unrelated artists as diverse as Daniel Johnson ("Walking The Cow"), Cat Stevens ("Trouble"), Nine Inch Nails ("Hurt"), and Nick Cave ("The Ship Song"). Although a few PJ songs made appearances ("Sometimes," "Elderly Woman Behind The Counter In A Small Town," and a beautiful reworking of "Better Man"), the greatest-hits package some of the faithful jonesed for was not in the offing.
But to dismiss the opportunity was to do so at your own risk. Vedder's rich, expressive baritone easily filled the palatial spaces, even if his now patented vocal tics were in seemingly limited supply. And never one to tone down some righteous indignation, the venue occasionally felt like an anti-war rally.
Phil Ochs' "Here's To The State Of Mississippi" was recast as an anti-Bush anthem, calling W.'s cronies (Cheney, Gonzales, and Roberts) out onto the mat and demanding them "to find another country to be a part of." But the evening's emotional highpoint came when the singer invited his friend and disabled war veteran Tomas Young onstage before a bile-soaked reading of "No More." The soldier was greeted by a lengthy standing ovation and a packed house singing "No more!" in call-and-response fashion.
Almost two decades ago, Time magazine put Vedder's face on the cover of a fall issue. Without saying it, the photo painted him as the face of the then-peaking grunge movement. Who would have guessed, 15 years removed from the angst, aggression, and flannel shirts, lurked the sleeping conscious of a modern-day hippie?
— Curt Baran
Category: Live Reviews, Weekly