RANDALL
Kirk Hammett RM100KH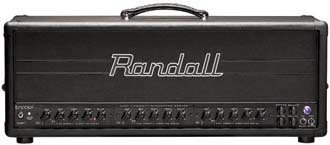 Randall's Kirk Hammett signature RM100KH amp not only offers a general array of guitar tones that have been longtime favorites of the acclaimed Metallica guitarist, but it offers these tones in a unique historical order. Shaped by three modules that create tones that follow Hammett's sonic career, it includes sounds from "classically clean to brutally crunchy." The amp recreates tones from Hammett's and Metallica's early (Kill 'Em All), mid (. . . And Justice For All), and later (St. Anger) years. The RM100KH cranks out 100-watts of 6L6 tube-driven power with MIDI switching and uses fully swappable MTS preamp modules, allowing musicians to pair existing modules with "Kirk tones" to create an original-sounding rig. Randall also offers custom Hammett guitar cabinets to go along this new amp. List price is $2,300. Visit www.randallamplifiers.com for more details.
Digitech
HarmonyMan
Digitech's HarmonyMan guitar pedal uses the same musIQ technology as the Digitech Vocalist effect unit previewed in "Gear" December 2007. It can can produce multi-part guitar harmonies on guitar solos by analyzing the chords users were playing . . . before the solo! Other cutting-edge features include key display, an option that shows the key HarmonyMan is currently using, strum key, a cool feature that allows guitarists to easily set the key of a song by simply strumming chords, and voice memory, allowing players to pre-configure up to four different harmony voicings activated by the memory-advance footswitch. A built-in guitar tuner is also included. Retail is $449. Check out www.digitech.com for complete details.
G&L
ASAT Custom Bluesboy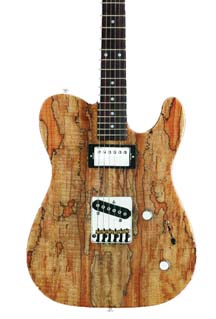 With one of the most unique rustic finishes we've ever seen, the G&L ASAT Classic Bluesboy was assembled by G&L's Custom Creations team using a limited supply of exotic spalted maple matched with a solid alder body and a hard-rock maple neck a in a clear natural finish. With a 22-fret rosewood fingerboard in a 25-and-a-half-inch scale, the G&L comes equipped with a nickel-plated Seymour Duncan Seth Lover humbucker in the neck position and Standard ASAT Classic single-coil in the bridge position, activated by a three-way selector switch with volume and tone. Other features include Sperzel non-locking tuners, a traditional boxed-steel bridge with six individual saddles, plus a G&L molded hardshell case. List price is $1,899, but production was "ultra-limited," so check www.glguitars.com to see if they're still around.
V-Picks
Acoustic Guitar Pick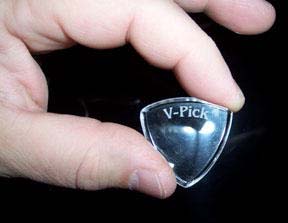 The V-Pick Acoustic Guitar Pick is the acoustic version of the company's acclaimed electric pick. Both achieve results by offering extra grip, super-fast action, and fuller tones from shimmering highs, big lows, and a sweet mid range. The pick is made of clear acrylic that creates very little resistance. Visit www.v-picks.com for more information and www.v-picks.com/vpickacoustic.html to watch a video of the V-Pick in action.
– David Gedge