Local H
Time Marches On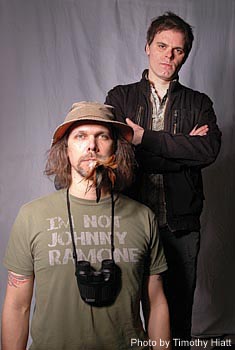 It was fairly early on the fifth night of Local H's seven-night stand at Beat Kitchen when it became apparent why the two-man outfit are so beloved locally, somewhere around when gruff but affable frontman Scott Lucas spit out "Fall Out Boy's on the radio," in the middle of fan favorite "California Songs." Chicago loves Local H not only because they're ours, but because the duo — including thrash-machine drummer Brian St. Clair — are not above us, and they get it.
Appearing: June 22nd at Metro in Chicago.
While the rest of their mid-'90s Chicago rock class have either exited the building (Triplefastaction and Fig Dish, the latter who returned to open one night of the residency) or only exist as a hypothetical (what happened, Veruca Salt?), Local H have remained a constant. The cycle of new material and performing throughout the city culminated May 7th through 13th, when the group delivered an album each night save one for rarities, leading up to celebrate their latest release, 12 Angry Months (Shout Factory). With a presence like that, it's not hard to see why Local H are considered hometown heroes. Hell, Smashing Pumpkins haven't sent so much as a postcard since their reformation.
Yet for all of Local H's time in the scene, Lucas doesn't subscribe to any sort of nostalgia when it comes to the Chicago rock landscape. "I think everyone sort of has their own take on the Chicago scene and what bands matter to them. And you'll get a lot of people who will talk about a golden age, and I think people only say that kind of bullshit because they don't listen to new music. They don't go out there now and check out the bands that are on the scene now. And so, I guess all that kind of thing would depend on who you talk to, and I tend to think that, as people get older, they tend to want to shut the door on what goes on. When they talk about how great bands used to be, or how great the scene used to be, they really don't know what the fuck they're talking about. So, I hate to place some kind of historical context on something that's never gonna end."
Lucas did seem fairly comfortable last month, however, providing a level of insight and context into his band's history. The outfit's discography-spanning residency allowed each night's sold-out crowd to witness an evolution, from fresh-faced sons of the fading grunge era (1995's Ham Fisted and 1996's As Good As Dead) to eventual pop-rock-experimentalists (1998's gleaming Pack Up The Cats), to unapologetic, full-on rock purveyors (2002's Here Comes The Zoo and 2005's Whatever Happened To P.J. Soles?). It was the perfect build-up to the calendar-inspired 12 Angry Months, a recorded journal of a year lost to resentment, blame, atonement, and varying levels of acceptance. Easy listening, this is not.
"It was pretty obvious right away that I wanted to make a breakup record," Lucas recalls, "but a breakup record that had some heft to it, and a little bit of weight. So I'd listen to things like [Bob Dylan's] Blood On The Tracks and Aftermath by The Rolling Stones, and I just would take a look at breakup records that I thought were really good.
"I didn't want it to be idealized," Lucas continues. "One of the problems I think people might have with songs about relationships is, something has happened, where they've been taken over with this sort of gutless, sort of neutered take on what romance is and what relationships are between people, and the mall-punk version of what emo has become, where it's just really neutered, and it's not interesting, and it's 'Why did you do this to me?' in a really uninteresting way. And then, when you listen to a really good breakup record, it's mean, it's disgusting, and there are some really terrible things that people do to each other, and really terrible things that you go through, so, I wanted to touch on those things. And so, you think of records like Marvin Gaye's divorce record [Here, My Dear], those things are pretty legendary, and, those feelings are real, that was definitely the kind of record that we wanted to make, rather than a record . . . that sounds like a James Blunt record or something."
True to his word, there's nary a moment on Months that could be mistaken for the syrupy, soccer-mom blandness of Blunt's "Beautiful." Instead, the record moves really, really quickly, diving headfirst and steadfastly into rarely pretty but undeniably honest themes like jealousy, bitterness, and wondering what happened to your record collection, as explored on album opener "The One With Kid," wherein Lucas demands to know where his ex has taken all his AC/DC, Interpol, and Kyuss records. (She never liked them until she met him, you know.)