NBC will make network history on February 18th when it premieres the Internet TV series, "Quarterlife."
But not because the half-hour show follows the lives of six good-looking white Los Angeles 20-somethings as they express their angst and try to find their place in the world.
The show is revolutionary because it first aired online in 36 eight-minute episodes – and because it was made outside of the tightly controlled network system.
"Quarterlife" (Quarterlife.com or Myspace.com/quarterlife) is the brainchild of "My So-Called Life" and "thirtysomething" creators Edward Zwick and Marshall Herskovitz, who retain creative control and ownership of the show, which they self-financed with their own money and through private investors and advertisers (yes, there's product placement).
Retraining ownership and creative control was of primary importance to the pair, who also worked together on the films Blood Diamond and Traffic. In a recent Los Angeles Times op-ed piece, Herskovitz explained media consolidation and network control are "literally poisoning the TV business" and sapping it of creativity.
He cited the Federal Commun-ications Commission's 1995 decision to abolish antitrust financial interest and syndication (fin-syn) rules that allowed networks to own the programs they broadcast. Before that, networks acted as broadcasters, paying production companies, who retained all subsequent rights, to air the show two times.
Herskovitz said in the mid-1990s there were 40 independent production companies making TV shows, and if a network didn't like a show they could take it to another one. Now, not a single independent production company remains. "They were all forced out of business by the networks' insistence – following the FCC's fin-syn ruling – on owning part or all of every program they broadcast."
Today, networks have a say in every aspect of a show, he says. "Network executives routinely tell producers to change the color of the walls on sets; routinely decide on the proper wardrobe for actors; routinely have 'tone' meetings with directors on upcoming pilots; routinely give notes on every page of a script. (When we did 'thirtysomething' in the late '80s, we never received network notes)," he wrote.
He continued, "This season's new shows have been a good indicator of how successful that strategy is: Even before the current writer's strike, virtually every new show was struggling."
At the same time network profits have been increasing, the writer/producers' share of the pie has shrunk. "Fees were cut by one-third to one-half, and profit participation in many cases was effectively eliminated," he stated.
That's why the Writers Guild Of America is on strike against corporate producers – which are not to be confused with independent producers like Zwick and Herskovitz.
The first season of "Quarterlife" was produced before the strike began. If there's a second season, the creators say they told the Writers Guild they'll make a deal that gives them the Internet and DVD residuals they've been trying to get from the studios – yet another first from the pair.
Let's hope others follow suit.
NOT MUCH. RESPECT: Chicago Public Radio recently dropped public radio's most original live quiz show – Wisconsin Public Radio's irreverent "Whad'Ya Know."
"I feel really bad about it – and disappointed not to be on the air in Chicago," says creator-host Michael Feldman. "We had a really long relationship with WBEZ and, most important, with the Chicago audience. I will miss them."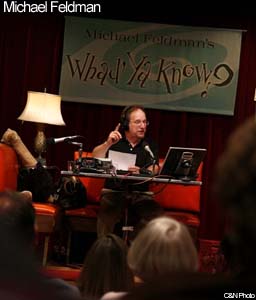 Feldman remembers the show's last live broadcast several years ago in Chicago, at Navy Pier's Skyline Stage. "There were sea birds inside. They were dive-bombing the audience periodically. It was a fun show."
Locals can make the easy drive up to Madison to see the show performed at the Frank Lloyd Wright-inspired Monona Terrace Community And Convention Center; tickets are $8, and parking is just $4 for the day (the pre-show coffee and donuts are free). Among the stunning lakefront building's attractions is a rooftop memorial to Otis Redding, who died during a plane crash in December 1967 near where the Monona Terrace sits today. For ticket info visit www.notmuch.com or call (800) 942-5669.
Chicagoans can still catch the live stream Saturdays from 10 a.m. to noon at Notmuch.com, which means you can call in and play. Podcasts of Feldman's monologue and the show's first hour are also available at the site.
Feldman says he hopes to return to the Chicago airwaves one day. "To me, radio and Chicago are synonymous; there's no better radio town in the country – in the world. It's really kind of psychologically important to be on the air in Chicago. I hope it happens again."
Listeners can show their support by calling Chicago Public Radio's listener comment line at (310) 948-4701 or e-mailing Vice President Of Programming Ron Jones at rjones@chicagopublicradio.org.
In the meantime, it's carried live on XM Satellite Radio and on Delafield-Milwaukee's WHAD-FM (90.7). It's also heard on Northern Public Radio stations, including Dekalb-Sterling-Freeport (www.wnij.org) on Sundays at 1 p.m. It also airs on Sirius Satellite Radio Saturday nights at 8.
It also airs on public radio stations in scores of major cities, including L.A., Houston, Philadelphia, Phoenix, and – yes – Peoria.
– Cara Jepsen