The Goldstars
Lord Of The Ringers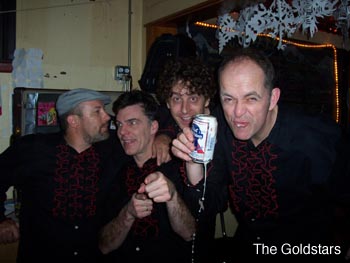 In some alternate universe, The Goldstars are a god-sized juggernaut. Frontman Sal — just "Sal" — is a true star, a wizard conjuring garage rock hurricanes to cleanse and purify the sodden masses.
Appearing: February 7th at Hideout in Chicago.
Back in Chicago, the quasi-supergroup have attracted a legion of media folk ready to sing praise (*Chicago Sun-Times critic Jim DeRogatis and a bevy of radio station programs including WFMU's "Three Chord Monte," WORT's "Leopard Print Lounge," WITR's "Whole Lotta Shakin'," WLUW's Di from "Razor & Di," WMBR's "Aural Fixation," and WRTC's "Rock And Roll Pest Control"), though their reach hasn't gone intergalactic yet. Sal is just a regular guy who even gets nervous around his own bandmates.
"It's kind of like a Cinderella story — in my own little world," he says. "I'm not playing with Bruce Springsteen, but for me it's a big deal — I'd never admit this to them because they would laugh at me." "Them" is the rest of The Goldstars: Skipper, Goodtime, and Dag Juhlin. If you've been over the age of 21 for at least 10 years, you know Skipper and Goodtime as two-thirds of the notorious New Duncan Imperials. If you've been to any show in Chicago, there is a high-percentage chance Juhlin was playing guitar (though he's best known for his own band (The Slugs) and for being a member of Poi Dog Pondering).
Before being ferreted (via pumpkin) to the ball, Sal was Matty (in fact, he still is — Matt Favazza to be exact) in The Krinkles. But that band called it quits at the start of the decade, and Favazza found himself bandless and bored. "I didn't know what to do," he says. "I knew what kind of music I wanted to play; I've always been a fan of more primitive rock 'n' roll."
So he krinkled his nose and set about finding some musicians of like mind. "[NDI] were my first concert when I moved to Chicago in '93 or '94. It was just amazing; it's really up my alley. So I started to follow the band, then started to work for Skipper at Pravda Records. Then one day, post-Krinkles, we were at a show, and I turned to him and said, 'Do you want to start a band with me?' And he said, 'All right. We could get Goodtime to play drums!' I was like, 'Really? Do you think he'd want to be in a band with me?' Because I never thought Goodtime really liked me that much."
If he actually doesn't, Goodtime deserves some sort of award for repressing it this long — for The Goldstars sprang to life. Favazza and Skipper began to play covers together, a la the Nuggets compilation and such. "I didn't really know what was gonna come of the band," he — at this stage adopting his Sal alterego — says. "At first my intention was to play these songs that I really loved to listen to. Then Skipper and I started to write songs." They went through a couple of guitarists before Goodtime decided to ask Juhlin — his brother-in-law — if he was interested. "I didn't think it was possible, because he was busy with other commitments; he's the guitar gunslinger of Chicago, always working." Juhlin filled in at first, then became a permanent fixture. "It always feels like he's going to leave, but he's not. I think he still has fun doing it, and I think it's fun for [Skipper, Goodtime, and Juhlin] to finally be in a band together."
Despite more than four years together, Sal still talks as if he's dreaming. He could wake up tomorrow and it'll all be over.
"I had to step up; I was really nervous at the beginning," he recalls. "I knew them and was friends with them, but we never worked together artistically. I think it was pretty rough in the beginning and they were patient. They saw something in me, so I was given an opportunity to be able to get better and earn their respect. At least that's what I think. It's mind-blowing to me to be in a band with these guys."
Two albums — 2003's Gotta Get Out! and 2006's Purple Girlfriend — collected reams of local acclaim for their rollout of frizzy guitars, tooting Farfisa organ, and Sal's indefatigable vocals, an amalgam best described by the band as "American kids trying to sound like British kids trying to sound black." They've also been granted a glimpse of the future while acting as back-up band for R&B legend/"The Black Godfather" Andre Williams, touring overseas with him and recording a 7-inch single for Spain-based Munster Records (AC/DC's "It's A Long Way To The Top (If You Wanna Rock And Roll)" backed with The Beastie Boys' "Fight For Your Right (To Party)").
"He's 72-years old," Sal warns, "but he's the real deal. He's awesome. He can still perform; when he gets on that stage he knows what to do." (Williams also fits into The Goldstars fantasy, perhaps as a shaman.)
While the real Goldstars toil at becoming the baddest group in the galaxy, they have begun infiltrating the media. When most groups looked to crack the teen market via "The O.C." or sought to wind ways into the psyche of collective American women on couches (via "Grey's Anatomy"), Sal and company were almost ubiquitous in their anonymity. Being an artist on the Pravda roster comes with the perks of great music publishing placement, as such The Goldstars can be heard in the soundtrack to many a television show, including the Oxygen network's "Bad Girls Club," the CW's "Reaper," MTV's "Punk'd," "Made," "Meet The Barkers," and "The Real World," VH1's "Kept," "But Can They Sing?," and "Breaking Bonaduce 2," and A&E's "Sons Of Hollywood" to name a few. Sal calls it "a band's secondary income. We're not going to become famous from it, but it fuels the band so we can be creative and keep going."
U.K. label Dead By Mono Records will release the 7-inch "She's Gonna" b/w "The Race" single in early 2008, and — thanks to early attempts at European conquest — in spring the band hope to release a third LP. "That's the 'nightclub' album," Sal reveals. "We have a few songs that we recorded. Right now we're in the process of shoring up the material. We came up with a concept while in Spain and started writing down song titles."
Somebody pinch the man so he knows he's not dreaming.
— Penelope Biver