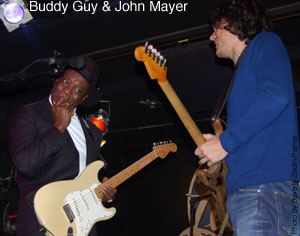 "When you get off the plane in Detroit, you hear Motown; when you get off the plane in Memphis, you hear Elvis. When you get off the plane here, there's one horrible painting of Muddy, [Howlin'] Wolf, and [Little] Walter sitting in a corner. I've mentioned that to the mayor . . . what are we doing with our history?" – Buddy Guy
By the time you read this Buddy Guy may have announced a new location for his world-famous club, Buddy Guy's Legends, which is scheduled to close at its current location (754 S. Wabash) sometime after the Chicago Blues Festival in June. Guy, who is scouting a new location for Legends, is hoping to stay in the South Loop. The media reported this as "breaking news," but it was no secret Guy was leasing the building from Columbia College and had been seeking a new location for a number of years. The May 31st deadline on a two-year lease extension seems to have fueled rumors that once Legends closed its doors at Wabash it was gone for good.
The South Loop has changed dramatically since the club opened in June 1989. Though steps from Michigan Avenue and the Hilton, and mere blocks from the Loop, that stretch of Wabash Avenue was, until recently, anything but upscale. When Legends first opened it had the feel of a neighborhood bar, similar to Guy's famous Checkerboard Lounge at 43rd and King Drive. Though Legends is larger than the former Checkerboard (now at 5201 S. Harper), it still had an unpretentious air, despite the fact it was owned by a world-renowned bluesman. Guy's celebrity notwithstanding, it's this vibe (and the possibility of running into a Rolling Stone or two, Eric Clapton, or John Mayer) that keeps people coming back. It is real. Too real, perhaps, for yet another Chicago neighborhood fallen prey to gentrification.
The area surrounding Legends is in marked contrast to the interior of the club – a high-rise "luxury" condo sits across the street on the southwest corner of Wabash. On a recent Sunday night inside the club, the blues were flowing as guitarist Lurrie Bell and the Matthew Skoller Band were laying down some searing Chicago blues. Guy was sitting at the bar, signing the occasional autograph, and watching the Grammys. Caught up in the moment, I looked around the club, thinking how essential it is. Like the Checkerboard before it, Legends is a reflection of its owner: laid-back, welcoming, and devoid of pretension.
An architect of modern Chicago blues, Guy's importance to Chicago stretches beyond his music. He is the only African American businessman to run a thriving nightclub in the Loop; he is a worldwide ambassador for the city, drawing people from across the globe; he is an outspoken advocate for recognizing and promoting Chicago's rich blues history. Last spring Columbia College awarded Guy with an honorary doctorate degree for his contribution to the arts. Maybe, rather than building a student center where Legends now stands, Columbia, a liberal arts school, should embrace Legends as a living, breathing representation of Chicago's vital music heritage and let it remain at its current location.
BUDDY LIVE AT LEGENDS: Guy's annual stint at Legends had a few surprises. Chief among them was the fact this may have been the last time folks had the opportunity to see him play in that building. As he put it to Sun-Times reporter Dave Hoekstra, "People better catch me while they can . . . who knows where we will be next January." But there were other, more pleasant surprises. Recent Grammy winner John Mayer stopped by one Sunday night and traded licks with Guy to the delight of the audience. Mayer received a standing ovation, which I would imagine had more to do with his celebrity than his guitar playing, which is derivative of Stevie Ray Vaughan (Can we just move on, folks?) and therefore not terribly unique. Mayer's a good singer, however, with a soulful gritty edge to his voice.
NEW RELEASES: Dirty Deal (Alligator), by West Coast southpaw guitarist and vocalist Coco Montoya, is a distinctive mix of blues, blues rock, and soulful tunes of original material and covers. Montoya is a high- energy guitarist who never strays far from the essence of the blues . . . State Of Grace (Alligator) is the latest by the venerable Holmes Brothers: bassist/vocalist Sherman, guitarist/pianist/vocalist Wendell, and drummer Popsy Dixon. The gospel fervor of the Brothers' live shows is captured in this compelling studio recording . . . Painkiller (Blind Pig) is fellow West Coaster Tommy Castro's latest blues rocker, featuring special guests Montoya, Angela Strehli, David Maxwell, and Teresa James. The title track is a horn-driven, soulful jam. Freddie King's "If You Believe (In What You Do)" finds Castro and Strehli channeling Delaney & Bonnie, while "A Good Fool Is Hard To Find" features Montoya and Castro paying tribute to their musical hero, Albert Collins.
NEW, BUT NOT REVIEWED . . . YET: Delmark combines a heady mix of the present and past with three February releases. Stay firmly in the soulful present with the Jimmy Burns: Live At B.L.U.E.S. CD/DVD set then travel back in time to St. Louis with CD releases by Barrelhouse "Buck" McFarland's Alton Blues and Cowboy Roy Brown's Street Singer. Stay tuned for upcoming reviews.
Category: Columns, Monthly, Sweet Home