Lamb Of God
Grant Us Peace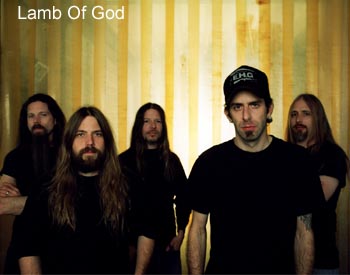 Chris Adler isn't all that different from the rest of us. Sure, he's the drummer for thrash metal titans Lamb Of God; he has sold hundreds of thousands of records and toured all over the world.
That's the Chris Adler most of us think of, but sometimes, like the night back in September at the Idaho Center in Boise, he's still the teenager sitting in his bedroom listening to his favorite bands' records. That night was the kickoff of Gigantour 2006, and Adler found himself face-to-face with heavy metal icon Dave Mustaine, whose band Megadeth was one of the primary reasons Adler was originally turned onto metal.
"For me personally, I definitely would not be here talking to you, I wouldn't be doing this if it weren't for what Dave Mustaine did with Megadeth," Chris says. "So that first night that we met I was very, not so much intimidated as tongue-tied — here was the opportunity I had been waiting for 20 years, to meet this guy."
Chris, seated next to his brother and LOG guitarist Will backstage at Congress Theatre during Gigantour's Chicago stop, smiles with a hint of disbelief as he talks about his band's tour schedule so far this year. While it would have been easy for them to headline their own packages, LOG instead chose direct support spots on, first, Slayer's Unholy Alliance Tour then Megadeth's Gigantour, giving them the chance to hit the road with two of the genre's legends, one after another.
"It's an honor," Will says. "It really is an honor especially since these bands in particular chose the bands they wanted to go out with."
"It's big for us because, you know, we're still fans of this stuff even though this is what we do for a living, we love it," Chris echoes. "To get to go out with these guys, I remember I had South Of Heaven and *Peace Sells before I started playing drums. So to catch up with these guys and play, it's insane. But for me, for the 17-year-old me, this is absolutely a dream come true, even going to these shows . . . to know these guys as friends and to play shows with them is amazing.
"Hopefully we continue to grow and become one of those bands for younger bands who are coming out today."
Lamb Of God are probably closer to being "one of those bands" than the drummer thinks, or is willing to admit. Formed in the late '90s in Richmond, Virginia under the attention-grabbing moniker Burn The Priest (changed to Lamb Of God in 2000), the band (completed by vocalist Randy Blythe, bassist John Campbell, and guitarist Mark Morton) created enough of an underground buzz with 2000's New American Gospel (Metal Blade) and 2003's As The Palaces Burn (Prosthetic) to warrant a deal with Epic. Their major label debut, 2004's Ashes Of The Wake, fared respectably in record stores, selling more than 275,000 copies, and earned the band high-profile gigs like a second-stage co-headlining spot on that year's Ozzfest and a direct support on Slipknot's Subliminal Verses arena tour.
Chris admits, though, the band didn't know how good was considered good enough in the here-one-day-gone-the-next world of the major label music business.
"Coming into it [Epic] never gave us a clear expectation of what they considered a success or a failure," he explains. "It obviously did well by our standards, and by our previous label's standards it was a huge success. But to a major label I don't know, I still don't know, if they consider it a success.
"And nobody ever told us," he continues. "Nobody ever came and said 'Here's the magic number; here's what we want this time,' so we're kind of waiting around to see are they gonna send the fax that says we're off the label or are they gonna send the fax that says here's the money to start the recording on the new record."
Needless to say the latter was the outcome. But for their second Epic release, Sacrament, the band tested a new routine. Ashes, the Adlers say, was somewhat rushed in order to meet a late-summer deadline, so LOG decided to deliberately slow the process for the follow-up. The band wrote a couple of songs every few months, then spent a couple weeks simply listening to them, deciding what they could do to improve each track.
"We took a lot more time with [Sacrament]," Chris admits. "With this one we purposely said, 'Hey, let's take a good 10 [to] 12 months and write a record."
The extra time allowed the group to write and record the most fully realized material of their career, starting with Blythe's growth as a vocalist. The frontman's performance on Sacrament is obviously his strongest and most varied. Blythe's progress was evident from Palaces To Ashes, but often it seemed it was he who sometimes stalled LOG's personality development with his same-old-same-old throaty death metal grunt.
— Trevor Fisher
To learn more about how Lamb Of God positively sing, grab the November issue of Illinois Entertainer available throughout Chicagoland.