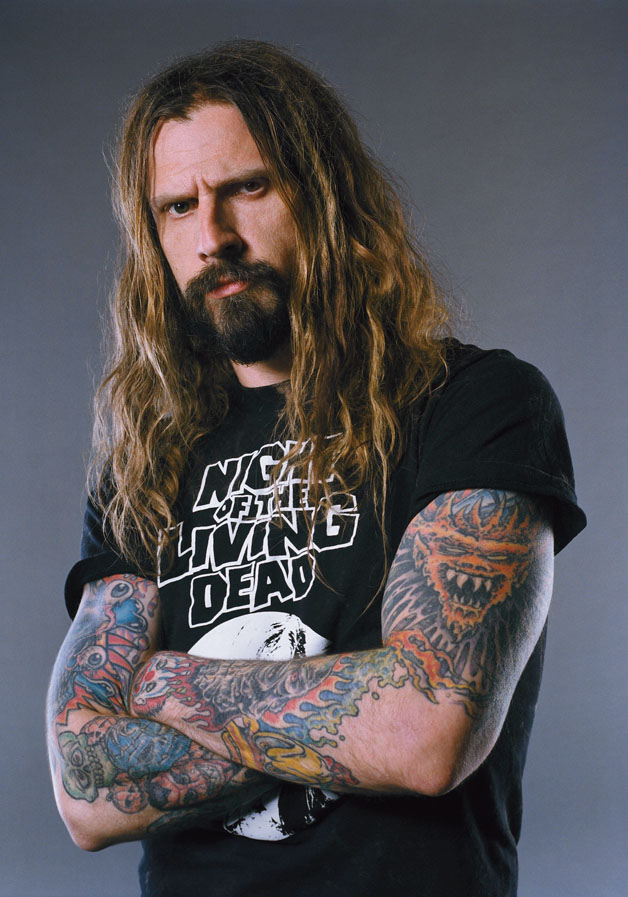 A Rob Zombie concert is a spectacle of spectacular proportions. The man, and the band (including guitarist John 5, bassist Piggy D and drummer Ginger Fish), puts on one helluva show. Spectators are treated to dynamic pyrotechnics, complete with giant video monitors, scary makeup and costumes. An RZ live concert can be described as a cross between a circus freak show, a horror movie and a roller coaster ride. You'll have a chance to see the Zombie and his band on one of his few tour dates July 19 at Fuel Arena in Grayslake with opening acts: Stone Sour, Theory Of A Dead Man, Devour The Day, The Last Vegas and Wilson.
Blessed with a storied career in music (and most recently film), and an impressive discography to boot, fans are almost guaranteed the set list will be packed with classic RZ tunes as well as some integral White Zombie treasures.
On the eve of the US Tour this week IE's Kelley Simms talked to Rob Zombie's guitarist John 5:
Rob Zombie guitarist John 5 (John William Lowery) is one versatile musician. The guitar maestro has one of the most impressive and most diverse musical resumés, which includes playing with David Lee Roth, Marilyn Manson, k.d. lang, Meat Loaf, 2wo and many more. John 5 is also a successful instrumental solo guitarist, which he proves on his eighth full-length album, *Careful With That Axe*. Rob Zombie band recently returned from a successful European tour and are gearing up for some dates in the US. During a phone interview on Tuesday, John 5 talked about how psyched he is for the upcoming Rob Zombie US tour, which will be making a stop at Austin's Fuel Arena in Grayslake on Saturday.
IE: How did the recent European tour go?
John 5: I've been to Europe a ton of times and this was by far the best trip I've had in my life. The weather was great, the crowds were great. I really enjoyed it. I really enjoyed the whole experience and the whole vibe. It was really a successful trip.
IE: How fun was it making the Zombie Horror Picture Show DVD and what do you think of the final results?
John 5: I have been pushing for this DVD for so long. Because the Zombie show is so big and it's such a spectacle and everybody has a DVD. I was always asking when we were going to do one. So luckily, the time was right and Rob decided to do a DVD. I have to tell you, and I'm being completely honest, there was not one overdub. There was not one tweak or anything. Nothing was fixed with the sound or the instruments. Rob said he wanted it to be completely real. He didn't want it to be edited back in the studio like bands do. We decided we were going to move around a lot and try not to mess up. I was telling Piggy D our bassist, and Ginger Fish our drummer, that we had to really concentrate because there weren't going to be any fixes and that Rob didn't want any overdubs or anything. We really killed it and I'm really proud of everybody. The other thing when you're watching that DVD, we're in Texas and it was literally a 1,000 degrees out. We were dying up there. It was like playing in a sauna.
John 5 - photo by Ray Gutierrez
IE: How did you come up with the title of your new solo album, Careful With That Axe?
John 5: There are a couple of meanings behind that title. Careful with that axe because you don't know if it's going to bring you happiness, or sadness, or riches, or poverty. You never know what that guitar is going to bring you. But it also means the other thing, careful with that ax, like an ax you would sling at someone. A lot of these song titles are related around ax murderers around America.
IE: On the new album, you play everything from metal, rock, country, jazz, Flamenco … you name it. What was your frame of mind while writing the album?
John 5: These records are so crazy and I just do them for myself and for people who love the guitar. And I think people grasp onto that because there's no real direction, it's just for the love of guitar. I just want to entertain myself. I think people really enjoy that because it's just so real and it's something that I enjoy doing.
IE: Have you started writing for a new Rob Zombie album and how involved are you in the songwriting process?
John 5: Yes, we have. We're going to continue on and do some more writing. It's going to be a very busy year to say the least. I write the music with Rob, so pretty much every song we're going to do, we do it together. Starting from Educated Horses to Hellbilly Deluxe 2 to Venomous Rat …, we've always done the music together. I'm very involved, which I'm very happy about.
IE: How excited are you about this upcoming US tour?
John 5: Dude, you have no idea. I love being home and I love my family. But what I love more than anything is playing summertime in the United States; outdoor shows. It's the greatest. I've done it as long as I can remember and for some reason it's very comforting. It's nice and warm … you get up there and play; people are screaming for you, boobs are being flashed. It's the greatest! I'm so psyched. This is going to be a total rock 'n' roll party and the crowd will definitely walk away saying, 'What a blast!'
– Interview and preview by Kelley Simms
Tickets available for Rob Zombie with Stone Sour, Theory Of A Dead Man, Devour The Day, Last Vegas and Wilson HERE.
Category: Featured, Stage Buzz, Weekly