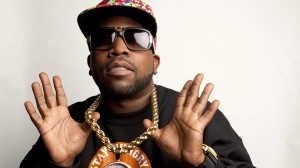 Big Boi tweeted in anticipation of his Chicago stop just hours before the ATL legend showed up at Park West on Wednesday to deliver a brilliant evening of hip-hop that never lacked direction.
A video intro announced Big Boi's impending arrival and soon enough the ATLien landed.  Strolling onstage with C-Bone by his side, Big Boi launched right into Outkast's hit catalog, banging out "ATLiens," "Skew It On The Bar-B," plus "Rosa Parks," and worked the frenzied crowd into a lather (although "So Fresh, So Clean" didn't come until later in the set). After a satisfying chunk of Outkast hits, Big Boi turned his attention to a few of his personal best, such as "Apple Of My Eye," "General Patton," and "Daddy Fat Sax."  Rarely pausing to let the audience catch a breather between tracks, Big Boi transitioned flawlessly from the powerful "Ghetto Musick" to the slick "Da Art Of Storytellin'" and "So Fresh, So Clean." It's impossible to keep Andre 3000 out of mind when hearing the latter or its ilk, but his absence didn't cast a shadow at Park West.  Big Boi and Andre remain forever linked, but the former proved he's more than capable of elite performances with or without Mr. Benjamin.
Big Boi opened it up to requests and a girl in front suggested "Ms. Jackson"(surprise, surprise). Daddy Fat Sax must've been expecting it, because the DJ had the Stankonia smash hit cued up instantly with the video to match.  Big Boi spit fire with an impassioned delivery about baby mama drama and letting bygones be bygones. Opener Killer Mike reappeared alongside Big Boi and the two displayed tremendous chemistry, even when simply conversing about Big Boi throwing out the first pitch before the Cubs game earlier in the day. (Big Boi even re-enacted his delivery from the Wrigley Field mound.)  The duo also provided those in attendance with a rare treat: a performance of Grammy-winning "The Whole World." (The original music video is available on YouTube, but just try and seek it out on iTunes.  Only karaoke versions are available, for some unfortunate reason.)  "The Whole World" was a highlight in a night full of them. Far from finished, Big Boi invited multiple women up on stage to grind to his mega-hit, "The Way You Move," from Speakerboxxx/The Love Below before continuing to remind everyone just how deep the Outkast hit factory runs.  He wasn't about to leave without busting out "Southernplayalisticadillacmuzik," "Player's Ball," and "Elevators".
The hip-hop extravaganza closed with favorites like "Shine Blockas" and "Fo Yo Sorrows," and soon all the ladies in the house climbed back up on stage as the Park West burst out in full party mode. Big Boi reveled momentarily in the A-town-quality atmosphere he created, a clinic in live hip-hop entertainment for anyone taking notes.  He implored everyone to put their "A's up" in tribute to his Atlanta hometown, and then he was out.
Longtime collaborator Killer Mike preceded Big Boi on the stage and he was in attack mode from takeoff.  Opening with "Big Beast," the lead track off his 2012 masterpiece R.A.P. Music, KM set the tone for the night with his unrelenting, commanding presence.  Killa Kill engaged the crowd with a throwback hit, "Never Scared," and hammered home his total audience domination with a rousing rendition of "Burn."  As pleasing as the hard backing beats were, Killer Mike may actually be even better without musical accompaniment.  A bare bones version of his anti-government manifesto "Reagan" proved to be the unequivocal high point.  His rhymes remained raw, focused, and purposeful and the credibility behind them resonated. Killer Mike's material possesses a rare retro charm that deserves a better descriptor than the overused "old school" tag. More accurately, he incorporates rap methodology of the past and makes it feel modern.  After 40 tenacious minutes, Killer Mike decided to seek out equal footing with fans. Deep amongst the crowd, he concluded with the title track from his aforementioned album and actually expended so much energy he labored to retake the stage. Once finally managing to hoist up his massive frame, he rested briefly on his back. The heavyweight MC caught his breath before exiting to make way for his mentor.
— Brendan Greeley
(Brendan co-hosts a weekly podcast with Pet Lions drummer Matt Dahl.  Available at mattandbrendan.com)
Category: Featured, Live Reviews, Weekly