ilentertainer | Sep 04, 2012 | Comments 0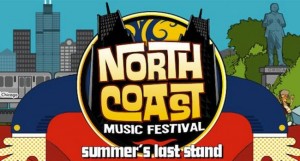 Now in its third year, the North Coast Music Festival has cemented itself as an end-of-summer staple, showcasing an eclectic mix of electronic talent, jam acts, and hip hop artists. Illinois Entertainer's Jaime "Black" de'Medici spent the weekend onsite at the three-day fest catching up with the wealth of Chicago talent on the roster for his ChicagoVerseUniteD podcast series on his Dynasty Podcasts Network.
The set starts with DJ Fei "Phives" Tang reflecting on his busy year, including his involvement with Chicago's Red Door Restaurant and EvilOlive, as well as his role with the ever-growing Porn and Chicken nightlife operation. Next, Matt Boy White discusses his increasing profile in the music scene, as well as his work with Chicago hip hop talent like Mic Terror and Hollywood Holt. Then, Chicago electronic music icon Felix Da Housecat looks back at his time growing up in Chicago, in addition to sharing his views on the American media coverage of his music. Finally, Orville Kline delves into his start in the local music scene, as well as his ambitious plans for the Porn and Chicken dance party. Stream or download those podcasts from the set.
Filed Under: Featured • Live Reviews • Weekly
About the Author:
Comments (0)