One More Time – With Feeling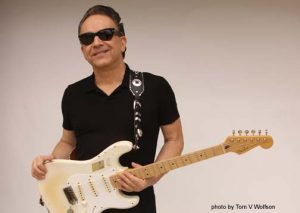 He doesn't know it, but Texan guitarist Jimmie Vaughan is about to embark on the Summer Of Jimmie. "The 'Summer Of' what?" he laughs. The Summer Of Jimmie. Despite remaining active, Vaughan releases his first proper studio album in nine years this summer, and has the tour itinerary to prove it.
Appearing: June 19th at Blues On The Fox in Aurora, 24th at Buddy Guy's Legends in Chicago, and 26th at Eric Clapton's Crossroads Guitar Festival in Bridgeview.
Have people been making a big deal about it?
"Maybe people are," he chuckles. "I got married and had twins, and they're almost 6. I've enjoyed being around them. I've made other records – recording with other people. I just haven't been out on the road constantly, riding in a van, putting out records every three weeks like some people. I've never done that anyway. Sometimes you have to decide if you want to be happy, and then do what it takes to be happy. I love to play, but I don't like all the other stuff after awhile. I like the music part."
Based on his insistence that something feel good in order for him to take part, you imagine Vaughan – he of Fabulous Thunderbirds fame and brother to the late Stevie Ray – is a nightmare for artist management. If he has to play a gig, he'd prefer not to leave his beloved Austin; he records piecemeally; and his taste for self-promotion rivals that of the sand lizard.
But it also makes for some very good art. Blues, Ballads And Favorites (Shout Factory) is a covers set (with one original) that feels very much like an album . . . this despite him reluctantly taking to the idea and recording each track as a single.
"These are just a bunch of songs that I like," he demures. "A friend of mine said, 'If I managed you, I would make you record all the American blues songs that I could think of.' I thought, well, that's the opposite of what I've been doing for 20 years. Then I got to thinking about it and thought, 'Why not?'"
Vaughan's tastes – admittedly stuck in the '50s and '60s – are as gritty as the gears of a Lone Star pickup, and ride an unpolished chrome fender on the album including Jimmy Reed, Lonnie Brooks, and Johnny Ace to Willie Nelson, Little Richard, and Billy Emerson. The dry, live recording gets amazing strength from a nasty brass section and vocal cameos from longtime accomplice Lou Ann Barton.
"There's a couple of studios in town that I like," he says, revealing the plot. "I got them to call me when somebody cancels on 'em, [so] I go in and I start recording as if I'm making singles. That's my latest trip. I'll get a couple songs, go in and cut 'em, fool around with them for the next couple days, and then that's it – on to something else. That's what I did on this record. I just want to have fun. My music has totally always been selfish and I've always played what I wanted to play. I figure, if I don't like it I can't expect anybody else to. I'm just trying to play what I want to hear. A guy told me that once. He said, 'Just play what you want to hear.' I said, 'That's what I want to do.'"
Despite his reverence for vintage sounds and styles, Ballads navigates around fakebook renditions and mirrors Texas' dry-as-bones feel every other time of year than mid-March. What he might purposefully lack in modernity manifests itself as unparalleled authenticity.
Vaughan explains, "I sort of galloped to the edge of the cliff with recording, and just decided to go ahead and jump off – and go ahead what I wanted to do. I just like to get the live recording, then I sing over until I like it – most of this stuff is mixed with an Echoplex. It's compressed with a lot of old stuff . . . the best of the old and the new equipment. It's kind of a dirty little recording, but that's the way I want it to sound. I don't know if audiophiles are gonna like it or not. [Brian Wilson]-kind of people don't like me anyways." As for the song selection, "They were my most favoritest at the time. I always have my own running Top 40 – always on some kind of trip. I get on a Gatemouth Brown trip, or a Johnny Watson trip, Johnny Ace, or Lightnin' Hopkins trip. There's no method. The great thing about music is nobody can tell you what you like. It's pleasurable. 'Roll Roll Roll' I've done off-and-on for 20 years. A lot of it just fit. I wanted to do the Don & Dewey ['I'm Leaving It Up To You'] just because I liked it."
— Steve Forstneger
For the full feature, grab the June issue of Illinois Entertainer, free throughout Chicagoland.