Mike Mangione
Simply Put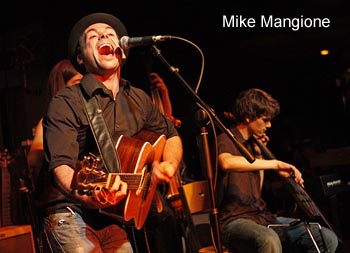 In a time when AC/DC, Guns N' Roses, and Metallica are rearing their salt 'n' pepper head, and their progeny fill the airwaves, singer-songwriters like Mike Man-gione, whose music is deep in the roots, are becoming endangered species.
Appearing: Wednesday, December 3rd at Double Door in Chicago.
Yet there always seems to be an audience.
"Stripped down and organic music has been prevalent in our country's history since the beginning," Mangione says. "The songs of Appalachia, the Civil War, turn of the century, and well into the '50s and '60s, music was growing the same time our country was. Especially in the '60s — all the folk stuff, from Buckley to Dylan to Donovan, all that stuff that came out and was so at the forefront then kind of made a big comeback in the past 10 years. Even at a time when acoustic music wasn't really big in our popular culture, you had Bruce Springsteen putting out The Ghost Of Tom Joad and Nebraska, two great albums that were such throwbacks to our heritage. This music pulses in our hearts as Americans. I think it's programmed in us to always have an ear that's willing to listen to it."
College radio is already privy to the Glenview, Illinois native's revealing folk rock: His first release, There And Back, landed at No. 16 on CMJ's "Most Added" chart in 2005. Mangione, however, is quick to point out that record was much different than new album Tenebrae, calling it a one-sided ego indulgence, in part because his brother Tom and he played all There And Back's instruments and recorded it all themselves. "An album needs to be good and it needs to be the right timing," he says, "and I personally think Tenebrae is a lot better than There And Back. I think the CMJ thing happened because it was the right time and people just picked up on specific parts of it.
"But there's not much of a world view to [There And Back]," he continues. "I like other people's input. Tenebrae is the first album I did with the band — the band that plays with me is the band that recorded it, and we had been working the songs live before we went into the studio."
Tenebrae is a collection of songs less insistent but more thought out, full of string embellishments and quiet, open spaces. "My brother and I said, 'At this point in our careers what do we want to sound like?'" Mangione recalls. "And we came up with 'simple but good'; we want to play very simply but we want to play everything simply well."
An objective achieved, and explained, perhaps, by Mangione's capacious admiration for producer Daniel Lanois. "Albums like Achtung Baby, Bob Dylan's Time Out Of Mind, Emmylou Harris' Wrecking Ball, and Peter Gabriel's Us set the bar for me," he says. "These albums all have something very mystical and pensive about them."
He met producer Duane Lundy (These United States, The Parlour Boys, Ben Sollee) while on the road, and they hit it off so well Mangione asked him to record his next record. "We had the same vision for the album and decided to record as much as we could live, with very little overdubbing, so that the performances could breathe and bleed together — literally bleed together into the microphones."
Mangione co-wrote and arranged most of the songs on Tenebrae with his brother, who also played all lead guitar. They recruited drummer Robby Cosenza, Chicago upright bassist John Collins, The Samples' keyboardist, Karl Dietel, and teenage cellist and violinist Patrick Hoctor and Kristina Priceman, respectively — both from Milwaukee — to complete the lineup. They recorded in a converted warehouse in Lexington, Kentucky for two weeks, keeping live takes for the Lanois-esque vision Mangione had for Tenebrae.
Live performance is something Mangione knows well, racking up about 150 shows per year since 2005, even heading down under for the World Youth Day festival in Sydney, Australia in July and has shared bills with The Samples, Will Hoge, Jack's Mannequin, and Lifehouse, among others. The venue, he says, is the "canvas" for the performer. "The venue is just as important as what kind of tone guitar you use and chord you use . . . it's an instrument in and of itself," he says. "I think this kind of music lends itself to multiple canvases, many different rooms. We have violins and cello and upright bass and acoustic and electric guitars, so it's a pretty organic, mellow, and vibey performance. Recently we played a show in Columbus [Ohio], and the venue we walked into was a punk club. That's kind of a hard canvas to work with. But we've been fortunate enough that no matter what the arena is, it goes over.
He continues, "When I played solo, I used to strum a lot more to kind of make up for the sound, but what I found is that that's not good; it becomes an annoyance. Now, if I play acoustic, I actually play less than if the band was there because I think silence creates a broader and colorful dynamic. Which isn't anything new; it's exactly what you see when Jeff Tweedy plays solo and even Dylan sometimes. But I'd say the band is just more fulfilled, all the melodies are there. The response we've been getting is unlike anything any of us has ever seen.
"Victor DeLorenzo [Violent Femmes] told me, 'As long as you can perform live you'll be fine and you'll have something to do,' and that's all I needed to hear."
— Penelope Biver