Sleeping In The Aviary
Ronny's, Chicago
Saturday, October 11, 2008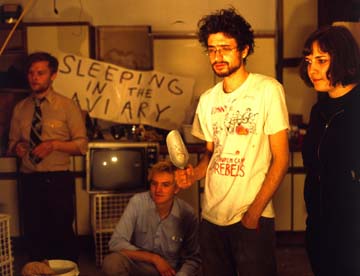 Sleeping In The Aviary wears its heart on its sleeve, combining wry, yet heartfelt lyrics with an acoustic punk aesthetic. The Madison quartet has much to lament on its sophomore effort, Expensive Vomit In A Cheap Hotel (Science Of Sound). Recording on the heels of a friend's drug overdose, a co-worker's brain aneurysm, and the hospitalization of vocalist Elliott Kozel's mother, the band faces mortality on the clanging, busker tune "Everybody's Different, Everybody Dies." Listing the circumstances under which people will meet their demise borders on morbid, but in Kozel's hands, the song becomes a meditation.
In a departure from the band's debut, Oh, This Old Thing?, Sleeping In The Aviary bounds down the road littered with folk rock heroes of the past. "Gas Mask Blues" is a Siamese twin to Bob Dylan's "Maggie's Farm," while "Write On" opens the affair with a burst of love sick rage.
The songs may go quickly, but perfect pop songs usually do. Sleeping In The Aviary somehow manages to cram that immediacy into 11 gloss-free tracks.
— Janine Schaults
Click here to download "Gas Mask Blues."
Category: Stage Buzz, Weekly