International Pop Overthrow
Various clubs, Chicago
April 15th – 27th, 2008
Back in 1998, when David Bash organized the first International Pop Overthrow in Los Angeles, he probably couldn't have imagined how much his low-budget, annual celebration of power pop would flourish. By 2001, International Pop Overthrow, named after a Material Issue song and album title, had branched out to Chicago and, two years after that, made its first visit to Liverpool. This year, Bash added Kalamazoo, Detroit, and Milwaukee to the mix, bringing the total to 13 cities. All the while it continues to fly under the radar of the mainstream media.
In Chicago, the IPO 2008 schedule was spread across The Abbey, Bird's Nest, Double Door, Elbo Room, and The Spot. Most of the acts were local, but some, like Atlanta's Gringo Starr and Minneapolis' The Humbugs, traveled a good distance to participate. Sets generally lasted 25 minutes, with each night's headliner getting extra time. Bash remained a tireless master of ceremonies throughout, enthusiastically introducing each act, whether it was to a packed house at midnight or a smaller audience at 1 p.m.
"We never see a crowd in the sunlight," bassist/vocalist Mike Galassini joked during a Saturday afternoon set by 92 Degrees at The Abbey. The band, led by vocalist/guitarist Steve Steffens, played catchy songs from its 1990 vinyl debut, Money Makes The World Go 'Round and 1995 self-titled CD on The Shoes' Black Vinyl label, as well as some impressive new material. 92 Degrees rarely performs these days, but holds a special place in IPO lore. It was one of only three Chicago bands (The Idea and The Critics were the others) to perform at the very first event in L.A. Leave also performed a daytime gig, with lead vocalist/guitarist Mike Murphy and guitarist/vocalist Jim Latsis creating Everly Brothers-style harmonies on light pop songs from its two CDs, Don't Go and I'd Rather Not Say. Leave sounded like it will continue its winning ways on an upcoming release, judging from some songs performed live and offered on a free three-song demo.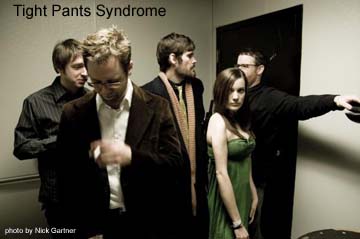 Monica Da Silva and her band proved IPO isn't limited to jangling guitars. Da Silva showcased light rock tunes from Miles From Nowhere with her full-bodied vocals, and on the irresistible "If You Push Me Away," added a Latin beat that reflected her Brazilian heritage. Cincinnati-based Pike, making its first visit to Chicago, also strayed from power pop, delivering provocative lyrics through the co-ed punk from its From Someone So Small. Tight Pants Syndrome arrived from St. Louis with a fun, novelty rock sound that featured the amazingly cohesive harmonies of keyboardist/vocalist Tim McAvin, bassist/vocalist Brian McClelland, and vocalist/supermodel Erin Hogan. The band was particularly impressive on "Your Buzz Is Safe With Me," which should be included on its debut CD this summer.
The less-crowded daytime gigs made it easier to observe musicians bonding between sets, as well as check out the merch table, where bands offered CDs, buttons, and T-shirts frequently at bargain prices or even for free. Surprisingly, Bash didn't sell anything to promote IPO itself in Chicago. The three-CD set International Pop Overthrow Volume 10 is available on the Not Lame Records Web site, but IPO T's are only marketed at the Liverpool gigs.
Still, the nighttime gigs have more of a party atmosphere, and the April 25th lineup at The Abbey looked to be one of '08's hottest. The Bradburys' Meet The Bradburys debut was produced by Jeff Murphy from Shoes, and it has yet to miss a Chicago IPO. The band kicked the evening off with guitar-driven, muscular pop, setting the tone for solid performances from fellow fest veterans The Cells, which was promoting its latest effort, Mayday, and the hard-hitting Last Days Of Pompei.
"Sorry, we're not talking," the guitarist for The Webstirs quipped between playing quirky pop music from the band's third CD, Radio Racket. "We're trying to crank through as many songs as we can."
Indeed, Bash had to run a particularly tight ship since The Abbey closes at 1 a.m. on Friday and the audience would be expecting a full concert from headliners Off Broadway. With cooperation from the eight-band lineup, he met his goal. Milwaukee's The Lackloves zipped through selections from its stellar new collection of Beatles-esque pop tunes, Cathedral Square Park, as well as a revved-up cover of "Across The Universe." The Valley Downs, featuring charismatic lead singer Marianne Shimkus, was equally adept at country-flavored rock and the Blondie-style pop of "Drama Queen," a song from its Behemoth EP.
Off Broadway's highly polished performance did justice to its two records, On and Quick Turns, which are still highly regarded by power pop fans 25 years later. Lead vocalist Cliff Johnson was in fine form, belting classics like "Bad Indication" and "Showdown," as well as covers of The Yardbirds' "Shapes Of Things" and The Beatles' "And Your Bird Can Sing." Just as in the band's heyday, Johnson wove snippets of pop chestnuts through an extended version of "Hang On For Love," providing fond memories for long-time fans as well as the musicians in attendance.
Ted Ansani Project, led by the former bassist/vocalist of Material Issue, performed tracks from Throttle And Pistons, and Ansani reflected on no longer being part of an MTV buzz band with the funny and very melodic "Used To Be." He couldn't duplicate the excitement of late Material Issue lead singer Jim Ellison, but his spirited renditions of "Diane," "Valerie Loves Me," and "Kim The Waitress" were the essence of what International Overthrow is about.
— Terrence Flamm
Category: Live Reviews, Weekly