Van Halen
Allstate Arena, Rosemont
Tuesday, October 16, 2007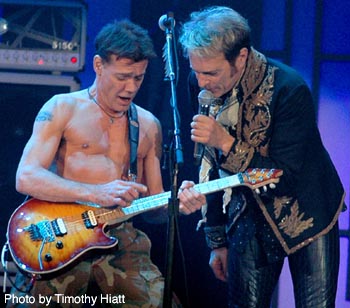 The summer of reunions continues. We've had the Police, Genesis, hell even The Bangles have shown up. Now it's Van Halen's turn with David Lee Roth in tow. If you close your eyes and listen, you'd swear it was 1984 again.
For the Van Halen live photo gallery, go to www.illinoisentertainerphoto.com
With as many fits and starts the VH reunion has had during the past few years, it's a wonder it ever got off the ground. Yet all the acrimony was nowhere to be seen Tuesday night. That doesn't mean it was a seamless or mercurial show, it just means no punches were thrown.
Appearing at the top of the stage's curving ramp to the opening riff of "You Really Got Me," Roth waved a huge red flag to open the cabaret. Though he may have been out of the game for a while, Roth certainly has taken care of himself. On top of keeping in good shape, his voice was in top form most the evening as well.
The major caveat of the tour is the absence of original bassist Michael Anthony. In his stead was Eddie's 16-year-old son, Wolfgang. Truth be told, he handled his job admirably, considering the number of 16-year-olds playing to tens of thousands of fans on a nightly basis is fairly low. Then again, no other 16-year-old has Eddie Van Halen for a father. Along with drummer Alex Van Halen, the two laid down a solid, if not always precise rhythm. Where Anthony was missed most was backing vocals, with songs such as "Beautiful Girls" and "Unchained" the worse for his absence.
Yet the night wasn't about who wasn't there. Aside from the obligatory (and completely useless) drum solo, it was the Dave and Eddie show – the two old hands playing off one another, and at times, literally circling each other.
They could at times dazzle, such as a roaring runs through of "Everybody Wants Some" and "Mean Streets." However they could also appear to have never shared a stage together, with Roth forgetting the words to "Dance The Night Away" and the band going through the motions for a tepid "Jamie's Cryin'."
The hits edged out the misses however. Despite the less-than-stellar sound at Allstate, Van Halen truly did seem to be having fun. Though Roth's stage moves aren't what they used to be (I counted only two twirl-kick attempts) he was beaming throughout and remains the consummate showman, complete with costume changes. And Eddie Van Halen is still simply Eddie Van Halen – perhaps the most influential guitarist of all time. Though he wasn't at the top of his game Tuesday, he's still head and shoulders above the rest.
The hot-and-cold flow of the show probably didn't matter to most of the crowd anyway. When you get right down to it, the VH reunion is about trying to recapture an era. And, if you were part of that era, all you can ask for is an honest effort from the band to walk you down memory lane.
No one can say Van Halen didn't make that effort, and no one tried harder than Roth. With relish, he shouted a line from "Hot For Teacher" that summed up what he and the rest of the crowd were certainly feeling: "We heard you missed us. We're back"
– Timothy Hiatt
Category: Live Reviews, Weekly