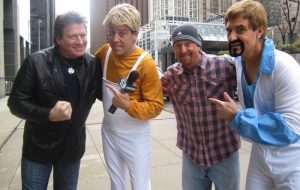 From bizarro Eddie and JoBo wreaking havoc at the auto show to John Tesh backing up a yellow-haired "Christoper Walken" crooning holiday tunes to a wacky "Jerry Lewis" performing with the Million Dollar Quartet, the "WGN Morning News" dances the line between news and entertainment.
The bits are the genius of producer Jeff Hoover. The Second City alumnus and former "Jonathon Brandmeier Showgram" producer/performer/writer found himself out of work when Johnny B didn't renew with WLUP in 2001 — and watching a lot of TV.
"I remember watching ['The WGN Morning News'] and thinking, 'These are real people having real conversation and I would like to have them as neighbors, maybe grab some beers with them,'" he recalls. "I was smitten with their chemistry and natural ability to bust each other up and break balls over bad tosses and cheesy news teases. I started calling into their 'Voicemail Frenzy' segment, and they started playing my messages and using some of my show suggestions."
"We 'discovered' Jeff when he started calling into our voicemail segment — doing impersonations. He was just hysterical," says co-anchor Larry Potash, who met with Hoover at a bar and found him to be surprisingly normal. "We begged — and then threatened — management to hire Jeff, and the rest is history."
Hoover — who likens his time with Johnny B to earning a PhD in comedy — initially contributed to the show on a per-diem basis. He was hired a year-and-a-half later as a producer/performer/writer (and recently signed a new one-year contract).
Potash says Hoover injected new life into the show. "I think when he came . . . we had all just started having children. It had become more difficult to go out and shoot bits for the show, and our energy was running low. Jeff was the creative spark that really pushed the show to the next level."
Hoover easily made the transtion from radio to TV — where things have to be clear to the audience from the start. "Radio is easier to be spontaneous," he explains. "However, some of my favorite moments are when the unexpected happens on live television. Tracy Morgan flopping himself up on onto the anchor desk and lifting up his shirt and pushing out his stomach and yelling that he's pregnant is still priceless to me."
His primary co-conspirator on the show is local comedian Mike Toomey, who plays Eddie to Hoover's JoBo. In one bit, the pair ask locals about what they're thankful for — peppering their interviews with plenty of enthusiastic "yeahs" and auto-insurance plugs. Eventually, they run into the real Eddie and JoBo — who play right along.
"This past Halloween, we were on our way to do our annual remote at Fantasy Costumes with Ana [Belaval] and Paul [Konrad} listening to Eddie and Jobo on the radio," Hoover explains. "Mike and I always loved poking fun at their auto-insurance commercials. We saw these Abba costumes and thought this is just stupid enough to work, and I slapped on a goatee and made our appearance alongside Ana . . . Mike and I started posing like them from the commercial and doing the lines, 'Did you know you can get auto insurance over the phone?'
"It was a hit. We couldn't believe it. The real Eddie and Jobo got the joke, and enjoy their clown clones. I asked them to make a cameo in one of our skits and they couldn't have been nicer: 'Yeahhhhhhhhhh!'"
But Hoover's favorite bit was Tom Hanks' apperance on the show last year (that clip and many others are at WGNtv.com). "I had a stupid idea to have different people lined up in the hallway in different costumes that represented different chracters from some of his favorite movie roles," he explains. "As a surprise and with no rehearsal, Entertainment Reporter Dean Richards escorts Tom down the hallway and the first person he sees is me dressed as Woody from Toy Story sweeping the floor. Tom's smile became a laugh, and he riffed on each of us as he made his way to the studio.
"He made us look good by going along with the idea. He could have just said 'whatever' and kept walking to the studio while rolling his eyes."
While Hoover has a lot of freedom on the show, not every idea flies. "
He adds, "I have to keep in mind that this is still a news show. Sometimes it's easy to forget that fact: 'What do you mean we have to kill the burlesque dancing monkeys because there is a dog running loose on the Eisenhower?'"
And what about that line?
"There is a line between news and comedy," he admits. "It keeps moving like a jump rope. Sometimes we can double dutch and sometimes we get nailed in the crotchtorial [sic] region. I think we 'get it' better than anyone else in town. We're not 'The Daily Show,' but we don't have 78 comedy writers."
It seems to be working. The show consistently beats its competitors in the adult demos between 7 and 9a.m. — including "The Today Show." Hoover says most of the audience feedback has been positive. "However, there's always a few boo birds on the branch that crap on our clown car: 'Stop goofing around and give me the weather. We don't want to see that idiot in a neckbrace make a sandwich with his feet.'"
He adds, "I think it's weirder seeing our competitors try to have fun with the news. Their idea of having fun is showing first-birthday photos and crayon weather drawings."
Potash agrees. "Media has changed so much in the last 40 years and yet, most shows are as predictable now as they were in 1972. We try to create an atmosphere of unpredictability. We cross the line now and then, but that's more interesting than another segment where the anchors make a tuna casserole. We take the show seriously, but we don't take ourselves seriously."
— Cara Jepsen
This article has been updated since it was originally posted.