The Frames
Tragicomedy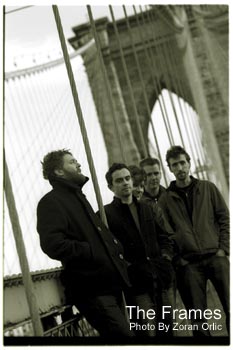 In an unusually reflective mood, Glen Hansard, frontman of The Frames — one of Ireland's biggest acts — oozes charisma as he sits in a cushy brown leather love seat, which pleasantly contrasts with his maroon sweater and mop of ginger ringlets. Sporting a cropped full beard, a cluster of white hairs overpowers the red at his jaw line, which ages him more than his 36 years. This outward sign of mortality was either absent on his previous trip to Chicago or the topic of our conversation accents the growth.
Appearing: April 18th at Metro in Chicago.
Looking back over his career, he cringes at the thought of hearing his band's story one more time — the label woes, the number one albums back home, the constant struggle abroad, the lineup changes, and the perpetual near misses of their big break. Hansard is over it.
"I don't care about that story anymore. I want to end that story. I want that story to die," he says over a steaming cup of Earl Grey tea at a Wrigleyville coffeehouse, hours before opening for fellow Irishman Damien Rice last December. "I'd split the band up rather than talk about fucking struggling anymore."
While it all sounds dramatic and makes good fodder for magazine articles, The Frames have actually progressed with the release of each album. Hansard founded the group more than a decade ago by recruiting members from a pool of buskers in Dublin while other boys his age were in school.
A host of roadblocks disappeared with the release of 2001's For The Birds, a dawning of sorts for the quintet. The Steve Albini-produced, recorded-in-Chicago album featured the band's most intimately mature songs to date and heralded a series of independent releases, proving more successful than any mauled by a record label machine. Burn The Maps followed in 2004 and most recently The Frames released their sixth studio album, The Cost, in Europe on their own Plateau label; it will be released Stateside by Anti on February 20th.
More than an album title, The Cost poses a question: Is the life of a nonstop traveling musician worth it? Up until the tragic death of close friend and fellow musician Mic Christopher, Hansard viewed his lifestyle as fun and carefree — a chance to see the world and meet loads of new people. After Christopher's premature death from a fall, Hansard worked twice as hard as a way to deal with the grief, plunging into project after project, playing solo between the band's tours.
In the meantime, Hansard's relationships with family and friends waned. The real blow came when a close friend called him to basically say goodbye due to his lack of availability. Other members of the band are fathers — violinist Colm Mac Con Iomaire has two children, as does drummer Johnny Boyle. Guitarist and Chicago transplant Rob Bocknik is married, yet by his own admission Hansard lacks a relationship. While the other guys now require more time off, he keeps moving.
"I'm busy as fuck and I'm almost running away from the band," says Hansard. "Everybody's being a bit more, 'C'mon, fuck it, you gotta have a life,' and for me there's kind of this almost terrifying prospect of stopping.
"So friendships-wise, family-wise there is a cost. And the cost of every decision you make has a consequence and the decision to stay busy and to stay in the world of being a songwriter definitely has a consequence, which I pay gladly," he says. "I'm happy for now."
As the other lads balance their musical pursuits and domestic lives, Hansard finds himself envious. He has picturesque ideals: living in the country with the woman he loves and two children who "think their dad is the coolest fucker in the world." But it's not something he'll let come easily.
"There's doing something for a career and there's doing something because that's who you are. Colm's a father. That's who he is and he's in a band as well," Hansard explains. "Whereas I'm the other extreme."
Although Hansard sings "We've got all the time in the world" on "People All Get Ready," already a quintessential Frames tune utilizing their mastery of soft/loud dynamics and also a tour de force by Mac Con Iomaire, the ardently emotional songwriter envisions a time when The Frames will only exist through their recordings. "It's always a question of would I be happy to leave this song behind in the world when I go?"
Like computer-animated depictions of humans with their creepy dead eyes, a la The Polar Express, The Frames fail to capture the magic ablaze in their live shows on record. There is just something eerily out of place. Hansard, at the risk of jinxing the band's latest offering, even calls their CDs "a pale souvenir of what happens on stage. It's like looking at a bad digital photograph of the night that you went out and had a fucking great time. I'm becoming more interested in the night you had a great time than I am in the digital photograph," Hansard says.
Yet, each album comes closer to bottling their chemistry in a concerted effort to make a "really honest record" to leave behind. Hansard hopes people find solace in The Cost, or some sort of "medicine." The title track and "Rise" could cave your heart in under the weight of Hansard's affliction, though both are simultaneously cathartic.
Two major themes emerge in Hansard's songs: love and a "me against the world" attitude. While songwriting is at the core of his being, he contends one day it could easily stop. "There might be a point where I hit happiness and that will be the end of it. I'll meet someone I love and I won't have to sing about the troubles of my relationships," Hansard says. "I'm lost and I enjoy it, but when I'm found I won't need to write about that. And I think when I'm there, music will definitely lose a lot of its medicinal power because I won't need it and if I don't need it, I won't need to express it."
It's hard to imagine him finding anything to fill the time — Hansard didn't let a moment go to waste in 2006. In addition to completing The Cost and playing major summer festivals, including Lollapalooza, with The Frames, he released The Swell Season, an album featuring Czech pianist and singer Marketa Irglova. He also appears with the 18-year-old siren in a Sundance-screened film directed by former Frame John Carney. Once follows the blossoming friendship between a brokenhearted guy sleepwalking through his job in a vacuum repair shop while moonlighting as a street musician. He meets a girl who sells the equivalent of Chicago's Streetwise and instills in him the confidence to become serious about his music.
Hansard never intended to revisit acting after playing Outspan Foster in Alan Parker's The Commitments on a fluke in early 1991, but when Cillian Murphy pulled out of the project, Carney pleaded with Hansard to take the lead role because he was already contributing music for the character to sing. "The massive irony is that one film ends with me busking and the other begins with me busking," he muses.
Most likely finished appearing on celluloid, Hansard broke it to his old friend that a repeat performance isn't necessary, despite the director's insistence. "'Why do we have to make another one together?' And [Carney's] like, 'We could do so much more. We could make another film and call it Twice,'" Hansard says in a fit of laughter. "And the third one could be called Three Times A Lady."
Someone get that guy a girl to fester over before the cymbals drop on that joke.
— Janine Schaults
Janine Schaults recently contributed to The Frames: Behind The Glass with photographer Zoran Orlic, released in Ireland in 2006 by The Collins Press.