All Entries Tagged With: "The Beach Boys"
So many incarnations of The Beach Boys have hit the road over the years, that it's often tricky to keep track of who's in the band. But considering 2012 marks the 50th anniversary of summer's supreme act,
Many casual rock fans get stuck on this poser: name the band who were greatly influenced by both Bob Dylan and The Beatles, and in turn had major influence on Bob Dylan and The Beatles. The answer is The Byrds. Similarly, another '60s-born Southern California-based outfit led several lives
IE: Are there any that you're more excited to approach than others? Brian Wilson: Not really. Well, "California Girls" I look forward to, and "Good Vibrations." I look forward to those.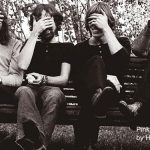 Don't go the top-40 route or an Amazon recommendation on a passe indie-rock band. Give the music lover who has nothing or everything an item to really chew on this season. It might cost ya, but the following boxsets will occupy them for years.