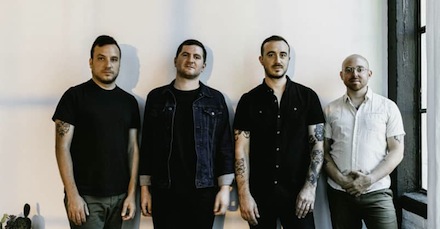 Watch Gloria Estefan, and the cast of Hamilton perform at The Buoniconti Fund to Cure Paralysis' 35th Annual "Great Sports Legend Dinner" on Thursday, October 8th at 6 PM. Grab tickets here.
Teenage Cancer Trust is opening up their vault of never-before-seen archival footage of live performances at the Royal Albert Hall in support of the organization. This week they'll stream performances from Ed Sheeran on Thursday, October 8th, Muse on October 9th, Paul McCartney on October 11th, and Paul Weller on Monday, October 12th. Tune in for free at 2 PM at Teenage Cancer Trust's website.
The Hanson livestream concert series kicks off Friday, October 9th, from Cain's Ballroom to support independent music venues. This month, the trio celebrates the 15th anniversary of their album, The Best of Hanson, Live, and Electric. Pick up tickets here.
All Time Low kicks off their "Basement Noise Concert Series," where they'll play five different sets across October, November, and December, on October 9th with a full performance of their new album, Wake Up, Sunshine. Get all the details and pick up tickets here.
Phish guru Trey Anastasio kicks off "The Beacon Jams" this week, an eight-week virtual residency live from New York's Beacon Theatre. All proceeds from the show will benefit Phish's non-profit, the WaterWheel Foundation, and its new Divided Sky Fund (DSF). The shows are free to stream on Twitch and start Friday, October 9th, at 7 PM and run thru November 27th.
Hawthorne Heights presents "Stay Home: An Unbiased View of Touring in the Year 2020" with Spitalfield's Mark Rose Thursday, October 9th, at 7 PM. There's only one way to watch the concert, so get tickets here.
No Merci and Dummy Live will stream Skepta's show, recorded live at London's The Steel Yard, where the rapper will perform fan favorites along with songs played for the very first time. Watch it live Friday, October 9th at 2 PM. Make sure you get tickets here.
"The 40th Annual John Lennon Tribute" celebrates his 80th birthday with a virtual event featuring performances from past Tributes along with new performances of Lennon and Beatles classics. The lineup includes Patti Smith, Jackson Browne, Taj Mahal, Betty LaVette, Jorma Kaukonen, and many more. The ceremony kicks off October 9th at 6 PM thru October 12th at Midnight. Stream the ceremony free here.
Industrial supergroup Pigface helps out local concert venues with their "Everywhere All At Once" livestream featuring their 2019 show at Thalia Hall in Louisville, Kentucky. The event also includes a Q+A session, special guest performances, and an auction featuring rare Pigface items. The show airs on Friday, October 10th at 6 PM. Buy tickets here.
The Menzingers mark their first performance since March 2020 with their "Live at Studio 4" virtual concert on Saturday, October 10th at 8 PM. Check out tickets and merch bundles here.
Andrew Bird performs The Mysterious Production of Eggs for the first time in its entirety to commemorate its 15th Anniversary. Bird will be joined by special guest and bandmate Alan Hampton. Tune in Saturday, October 10th, at 7 PM. Get tickets here.
K-Pop sensations BTS will stream their virtual concert, "Map of the Soul: ON:E," to celebrate the release of their new album, BE (Deluxe Edition), on Saturday, October 10th at 5 AM, and Sunday, October 11th at 2 AM. Get all the details and tickets here. The band will also join Radio.com for an exclusive live performance on Tuesday, October 6th at 5 PM. Tune in here.
Ashley Perez Hollingsworth
Category: Features, Livestreams, Stage Buzz, Weekly