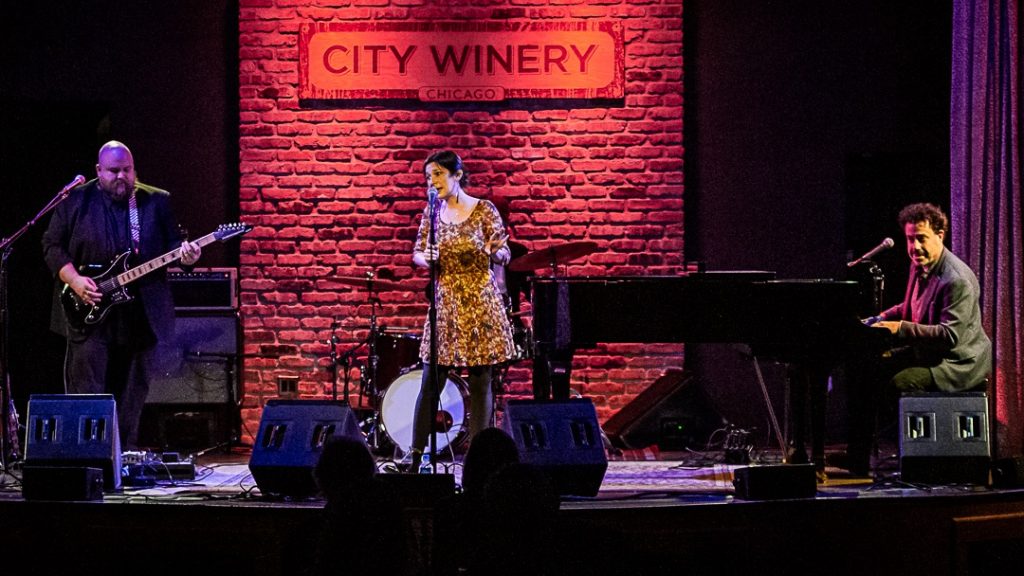 City Winery, Chicago, IL
Saturday, October 10, 2020
Chicago's own The Claudettes are an uncategorizable but captivating blend of cheeky cabaret, gut-level blues, raucous rockabilly, cartoonish whimsy, and pop songcraft. 2020 was initially primed to be the band's year, with the release of its most highly-praised set of songs. High Times in the Dark arrived in April as the Claudettes' fourth album.
We all know what happened to everyone's plans for 2020, though. The Claudettes have made the most of lockdown, trading North American and European tours for time spent creating new songs at home. But tonight at City Winery, the group and venue took cautious steps back toward "normal" to present a long-delayed album release show.
With the venue's usual 340 seats limited to 50 tickets per show, City Winery hosted two performances by the band. The first set (covered here) was held at the dinner hour of 5 pm. In the wake of recent reports of coronavirus spread at gatherings like the event for Supreme Court Justice candidate Amy Coney Barrett on the White House lawn, the sparse accommodations at City Winery simultaneously seemed overly distant for the concert experience and prudent. Fortunately, the initial notes of Berit Ulseth's slinky purr during "Declined" closed the gaps in the room, drawing listeners into an intimate atmosphere and communal experience that has been missed for many months. 
"Good to see you again," called one well-wisher from the audience afterward. "You have no idea," responded bandleader Johnny Iguana from the piano.
Several of the Claudette's songs assumed special relevance given pandemic concerns. Iguana cited the connection when introducing "Grandkids, Wave Bye-Bye" as a song about "being your brother's keeper." 
Drummer Michael Caskey launched "Most Accidents Happen" with a heavy tom-tom beat and big band swing reminiscent of Louis Prima's "Sing, Sing, Sing." Caskey conspicuously wore a surgical mask throughout the set, removing it only briefly to brighten the room with his huge grin.
Bassist Zack Verdoorn joined Caskey to propel the sultry tango of "I Swear to God, I Will," lacking only a rose between the teeth to make the perfect picture. Ulseth crooned about taking extreme measures in the name of romance.
Afterward, Iguana promised to transition from the supper-club vibe to test the house piano's structural integrity. First came  "Utterly Absurd," with its highly accurate description of the current state of life on earth. Next was "Creeper Weed," with Iguana hammering the ivories like Jerry Lee Lewis and a fuzzed-out rock solo by Verdoorn on his gold sparkle bass. 
Unreleased material included the tribute to "The Italian Masters," with broad flourishes from Iguana on piano and Caskey on drums. Other songs received their first-ever performances, including the tongue-in-cheek "There's Too Much Affection in the World" and "The Waves." The latter was signified by Iguana's fluttering ostinato a la Philip Glass, and Ulseth's flowing, emotive vocal. Iguana explained the song as a reminder to build joy within oneself and share it freely with others. For his part, Iguana expressed his own happiness at simply being on stage with his bandmates again. "I haven't seen these guys much more than you have," he said to the crowd.
Caskey counted off High Times in the Dark single "Bad Babe, Losin' Touch" with Muppet-like abandon. Ulseth sang her last warnings to a complacent lover accused of losing fire and attention to detail.
At the other end of the devotional spectrum was the hard-driving "24/5." "Casanova, take it easy, you're in overdrive," sang Ulseth. Iguana admitted that the song's plea for private time might currently be a bit less urgent than under normal circumstances. He also made a wisecrack comparing the song to a fictional Burt Bacharach chart-topper called "Smothering Love" that Dionne Warwick might have made famous.
Verdoorn and Ulseth harmonized sweetly during "My Impossible Dreams," and paired again later for a swooning duet on Buddy Holly's "True Love Ways." Verdoorn stepped forward with lead vocal on T. Rex classic "Cosmic Dancer," drawing additionally on David Bowie, Prince, and Elton John. Verdoorn's furious guitar solo and sly slide guitar passages on "Don't Stay With Me" were underscored by Caskey's big beat and Iguana's tough Chicago blues piano fills.
The set included the newly-released single "Different Drugs (Song for Bill Hicks)," a moving and bittersweet tribute to a key influence on principal songwriter Iguana. Despite the influential satirist's tragic transition from a high-octane lifestyle to his final days at home succumbing to cancer at age 32, Iguana noted that the song also encompassed the idea of being in a comfortable place and surrounded by love.
Conflicting emotions occupied space again during the funny and plaintive true-life tale "All You Drummers Keep Breaking My Heart." The set concluded with blues stroll "I'm Blue" and the apocalyptic euphoria of "Bill Played Saxophone." During the latter, Verdoorn ignited the thrumming piano-pop by channeling Chris Squire's manic bass-heroism a la Yes' "Roundabout" and "Heart of the Sunrise."
The Claudettes encored with "Give it All Up for Good," as Ulseth's vocal ranged from sultry croon to brassy belting. Pianist-philosopher Iguana left the crowd with parting thoughts comparing the current pandemic that has affected his (and so many others') livelihood to the global affliction that occurred in 1918, noting that the latter consumed two years but was "followed by the roaring f—-ing twenties!" "We're already in the twenties now," he said. "Get each other through this, and look forward to what comes next."
Set List:
Declined
Grandkids, Wave Bye-Bye
Most Accidents Happen
I Swear to God, I Will
Utterly Absurd
Creeper Weed
The Italian Masters
Bad Babe, Losin' Touch
The Waves
There's Too Much Affection in this World
Time Won't Take Our Times Away
My Impossible Dreams
Don't Stay With Me
Different Drugs
You Drummers Keep Breaking My Heart
Cosmic Dancer (T. Rex cover)
Bill Played Saxophone
True Love Ways (Buddy Holly cover)
Give it All Up for Good
– Reviewed by Jeff Elbel. Photos by Philamonjaro.
Category: Featured, IE Photo Gallery, Live Reviews, Stage Buzz, Weekly